Discount Laptops Sager 8790
Review by Jason Jacobs on 10/19/04

Mobile Computing
Laptops and mobile computing are nothing new. Portable computing power has been around since the inception of personal computers; of course the actual portability of some of the originals is highly debatable. Since that time, portable computers have grown smaller and their functionality and power has increased. Today, many laptop models rival the power of desktops and these models are aptly titled desktop replacements. The market for desktop replacements is growing as people begin to realize that they can now have all the computing power and functionality of a full desktop in the portable form factor of its smaller brother, the laptop.
Today Techware Labs takes a look at a desktop replacement unit from Discount Laptops. Several companies market "desktop replacement" models, but what makes this unit different is its brand and what that brand carries with it. Discount Laptops was kind enough to send us their top of the line Sager 8790. For those unfamiliar with Sager laptops, you have only to read in some notebook and laptop related forums to see that Sager's are regarded as the very best--and for good reason. Sager laptops are outfitted with the latest in technology, constructed to be durable, and perform as well or better than the desktops they replace. Additionally, Sager laptops arrive in a sleek stylish casing.
Discount Laptops has an excellent reputation as a reseller and is recommended in many online forums. Techware Labs is committed to bringing you products from companies that are reputable and will not only provide you the product you purchased, but also the service that comes with it. To this aim, we set out to find some information about Discount Laptops. One of the most trusted resources, Reseller Ratings, posts online ratings of stores around the world. Consumers are allowed to rate a company from 1 to 10 with 1 being highly dissatisfied and 10 being excellent. Of course the higher the number of reviews a company has, the higher the chance that someone along the way was not 100% satisfied with the company and gives it a lower rating. Discount Laptops has 160 reviews, as of the date of this publication, and an unbelievable 10 rating, but don't believe us--go check it out yourself. We were a little stunned that everyone who has used this company has been overwhelmingly satisfied with their purchase and strongly believe that says a lot about Discount Laptops.
The Sager 8790
The Sager 8790 is currently the high end of the Sager line and carries some impressive specifications: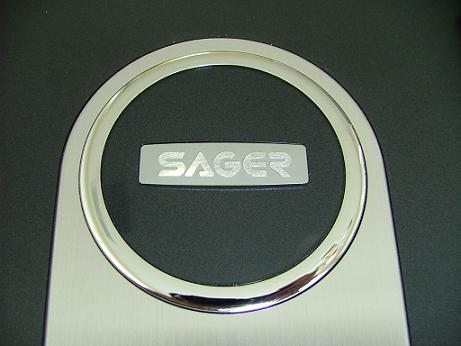 Sager 8790:

Basic Features:
17.1" Wide Viewing Angles WSXGA+ Active Matrix Display with Super Clear Glossy surface
Intel® Pentium® 4 Processor / 800MHz FSB
ATI MOBILITY RADEON 9700 Graphics with 256MB DDR SDRAM
400MHz Dual Channel DDR Memory
Integrated Hardware ATA Raid 0,1 Controller
4 Speakers Stereo Sound
3 USB 2.0 Ports & 1 IEEE-1394 Port
Integrated Video Camera
Built-in 7-in-1 Card Reader
Full Sized Keyboard with new improved layout
6 Channel external audio outputs
WiFi Lan Card 802.11g w/ Turbo Mode (108 Mbps)
Built in 56k V.90 Modem
Built in 10/100/1000 Fast Ethernet / LAN Network Card
Advanced Options:
2nd Hard Drive Raid
7200 Rpm HD's
TV Tuner
Subwoofer
BlueTooth
Up to 2GB RAM
DVDRW or CDRW
Extended Battery
Up to P4 3.4Ghz EE Processor
As you can see the Basic features present a formidable laptop capable of high end gaming or superior computing for business needs. The system as sent to us was configured as follows:
17" WSXGA+ (1680 x 1050) Active Matrix Wide Screen Display (Glossy Screen)
3.4 Ghz Intel Pentium 4 Processor (800 MHz Bus) - w/ HT (Northwood)
256 MB Dedicated Video Ram - ATI Mobility Radeon 9700 Pro Turbo Video Chipset (M11)
60 GB Hard Drive (7200 RPM)
2048 MB DDR SDRAM (400 MHz, PC-3200, Dual Channel) (2 x 1024 MB)
External USB 3.5" 1.44MB Floppy Drive (required for RAID setup)
Internal 4X DVD±R/RW / CD-RW Combo Drive w/ Software
2nd Hard Drive Bracket Only
HDD RAID Settings - Off
Built in 56k V.90 Modem
Built in 10/100/1000 Fast Ethernet / LAN Network Card
FREE! - WiFi Lan Card 802.11g w/ Turbo Mode (108 Mbps)
Smart Lithium Ion Battery (8 Cells)
Remove Subwoofer - replace with TV Tuner & remote
Add Internal Bluetooth Card
Integrated Video Camera & 7-in-1 Card Reader
Auto-switching AC Adapter (20v, 6 Amp, 120 Watt)
Free Carry Case
Notebook Essentials Software (19 titles FREE)
Microsoft Windows XP-Professional, recovery CD included
Factory 1-yr parts & labor warranty w/ lifetime technical support
We decided against receiving the 3.4EE as it is expensive and the overall performance it adds may not be worth the cost to many of our readers. We also opted not to use the 2nd hard drive for raid, as it too is an expensive feature that may not be useful to some. The 2nd hard drive bracket is still there and may be used at any time in the future. We see this option as very useful to the professional on the go who needs extra storage, the increased throughput gained through Raid 0, or the data redundancy of Raid 1. We did opt for the TV tuner, as it is a useful option that many may be interested in. As configured, the laptop came to $3,085.00. Now let's see what you get for your hard earned money.
A closer look at the 8790
Shopping Matches for Discount Notebooks: