Albatron PX845PEV Pro Motherboard
Review by Navid Mortezaei on 02.11.2003
Introduction
Intel has recently introduced a new chipset called i845PE. This chipset is a revision of the i845E, with many new features including Hyper-Threading support. Hyper-Threading has become famous real fast, and now almost all motherboard manufacturers want to get a hold of this chipset. One of the motherboard manufactures that got a hold of this chipset is Albatron.

Albatron is the latest Taiwanese computer hardware manufacturer to enter the motherboard market. Their products are aimed at enthusiasts/overclockers, and until now they've had pretty good releases of their products, especially their motherboards.

Today at the newly opened Canadian TechwareLabs, we will test Albatronís PX845PEV PRO. Will this motherboard continue Albatron's custom? Lets see...
Chipset
The Intel® 845PE chipset is the newest discreet chipset developed with DDR333 and optimized to support the Intel® Pentium® 4 processor supporting Hyper-Threading Technology, adding intelligence to help manage and prioritize multiple threads received from the microprocessor.

The Intel® 845PE chipset is the newest discrete chipset for the Pentium® 4 processor, and was developed with DDR333 memory so you can be confident that this platform offers a complete, robust solution for a broad range of computing needs. In adding DDR333 main memory support, Intel worked closely with the industry to update memory specifications and validate compliance so that you can count on outstanding performance and interoperability.The Intel 845PE chipset has been designed and optimized to support the Intel® Pentium® 4 Processor supporting Hyper-Threading Technology, adding intelligence to help manage and prioritize multiple threads received from the processor. HT Technology is Intel's latest ground-breaking innovation, and allows the processor to execute instruction threads in parallel so that the processor can complete more tasks in a given amount of time. This maximizes the efficiency of the processor, and improves system performance and responsiveness. The combination of an Intel Pentium 4 Processor supporting Hyper-Threading Technology, an Intel® chipset that supports HT Technology, an operating system that includes optimizations for HT Technology, and a BIOS that supports HT Technology and has it enabled delivers unmatched system performance. With systems based on the Intel Pentium 4 Processor with HT Technology3, users can perform multiple complex tasks simultaneously, such as accessing instant messaging while playing their favourite online game or downloading music while managing their digital photos. We designed two controller hubs into the 845PE chipset. The 82845PE Memory Controller Hub (MCH) supports both 533-MHz and 400-MHz system bus designs; DDR333 or DDR266 SDRAM memory; and the latest graphics devices through the 1.5V AGP4X interface. The 82801DB I/O Controller Hub (ICH4) integrates Hi-Speed USB 2.02 technology, offering greater bandwidth for I/O-intensive applications and enabling new heights for multimedia streaming. The Intel® Application Accelerator adds new capabilities in acoustic and power management, as well as support for large disk drives for accelerated boot times and application launches. The 845PE chipset utilizes these features to deliver a compelling solution for a broad range of market segments:
Innovative architecture enhancements such as wider data paths and flexible memory refresh technology enable optimum DDR SDRAM performance.
Advanced packaging technology and industry-leading electrical design innovations ensure longterm system reliability over a wide range of operating conditions.
Support for higher-bandwidth DDR333/266 SDRAM memory provides exceptional performance across the full range of multimedia and 3D-intensive applications while offering the cost benefits and reliability of SDRAM architecture.
Optimized for the Intel Pentium 4 Processor supporting Hyper- Threading Technology1, the 845PE chipset delivers faster system performance and responsiveness.
LAN Connect Interface (LCI) provides flexible network solutions including home phone line, 10/100 Mbps Ethernet, and 10/100 Mbps Ethernet with LAN manageability.
Intel® SingleDriver&tm; technology supports all three network options, which simplifies network connectivity and eases deployment.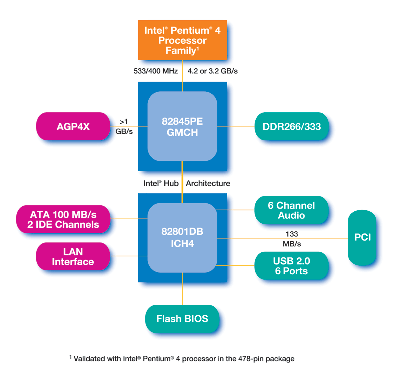 The Northbridge bridges the CPU, AGP 4X and DDR memory (DDR266/333). The Southbridge is connected to the 845PE Northbridge through the Intel Hub Architecture. The Southbridge controller bridges the two ATA 100 IDE Channels, 6 channel audio, PCI Cards, LAN, USB 2.0 and the BIOS.
Intel® 845PE Chipset Features
FEATURES
BENEFITS
533 MHz and 400 MHz system bus
Supports platform longevity with the highest processor frequencies. Increases system bandwidth for greater responsiveness.
Support
Delivers increased system responsiveness and performance.
478-pin Processor Package Compatibility
Supports the highest performance Intel desktop processors with the flexibility to support other 478-pin Intel processors.
Intel Hub Architecture
Dedicated data paths deliver maximum bandwidth for I/O-intensive applications.
333/266 SDRAM
Supports up to DDR333 SDRAM memory for higher system performance.
4x Interface
High-bandwidth interface delivers high-quality 2D, 3D, and video streams and is compatible with universal AGP8X graphics cards.
Alert on LAN* 2.0
Emits an alert in case of software failures or system intrusion, even when the O/S is not present or the system is suspended.
Integraded High-Speed USB 2.0
Six ports offer up to 480MB/s, enabling ultra-fast data transfers for demanding I/O peripherals.
Ultra ATA/100
Takes advantage of the latest industry innovations in hard disk drive features and performance.
Intel Application Accelerator
Software that helps to accelerate boot time and application launch times.
AC'97 Controller
Supports Dolby* Digital 5.1 surround sound, delivering six channels of enhanced sound quality.
Communications Network Riser Card
Allows flexibility for multiple configurations on a single card to extend USB, LAN, and audio.
Low-power sleep mode
Saves energy.