AOpen AX4SG Max
Review by Michael Tran on 05.21.03
Managing Editor: Harry Lam
Motherboard provided by AOpen
MSRP $229, ESP $209
Overview: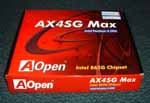 About seven months ago, nVidia released their nForce2 chipset for AMD's line of CPU's. This chipset supported dual-channel DDR 333 and 400 which allowed memory to run synchronously with the Athlon XP's 333MHz FSB. This gave AMD the edge over Intel's 845PE which only supported single-channel DDR333 (in addition the CPU and memory are running asynchronously). Intel has now responded to that threat with the release of the Springdale chipset. Intel's original plan with the Springdale was a dual-channel DDR333 part, however with the finalization of the PC3200 standard Intel decided to take another step forward by upgrading the Springdale's ram support to DDR400. Since then, Intel has split the Springdale into two different chipsets: the 865 (Springdale) and the 875 (Canterwood). The primary difference between the two chipsets is that the Canterwood features PAT, which is touted to improve performance. The Springdale will be the cheaper of the two chipsets, focused towards the mainstream market. However, the Springdale will still retain DDR400 and 800Mhz FSB support.

With the announcement of the Springdale, AOpen just released a brand new motherboard, the AOpen AX4SG Max. The AOpen AX4SG Max supports Intel Socket 478 Pentium 4 CPUs (1.6GHz ~ 3.06Ghz), 400/533/800 FSB and Intel's Hyper Threading Technology. If you have not heard of Hyper-Threading, it fundamentally creates two virtual processors allowing the processor to track multiple software threads simultaneously.
First Impression:
The first thing that caught my eye was the shiny detachable aluminum AOpen chipset heatsink located at the middle of the motherboard. I won't lie, style is definitely a major factor when it comes to consumers. The second physical feature I noticed was the long row of capacitors. AOpen feature low equivalent series resistance capacitors to enhance stability of performance. AOpen also uses capacitors that hold twice as much capacitance as most normal motherboard capacitors, thus further increasing stability for CPU power. Probably the most unique physical feature was an unique stand-up clip on the CMOS battery.
| | |
| --- | --- |
| | |
| AOpen Northbridgeheatsink | Innovative Battery Clip |