Review - EPoX 4BEAV i845D Motherboard + Bluetooth
Techware Labs gratefully recognizes EPoX's support in making this review possible!
Review by Edward Chang, call sign: Big_E
August 30, 2002
Introduction:
Technology is always evolving. EPoX, a long time maker of motherboards also has ventures into the communications sector. Today, they release their first motherboard that implements Bluetooth wireless technology: the EP-4BEAV, or "beaver" as EPoX likes to call it. The 4BEAV is based on the Intel 845D, but is optimized to support Intel's latest 533 MHz FSB Pentium 4s. The complementing Bluetooth header revolutionizes the personal connectivity market by providing freedom from wired connections; enabling links between mobile computers, mobile phones, portable handheld devices, and connectivity to the Internet.
About the Company:
Over time, the EPoX brand name has become synonymous with quality and performance motherboards. In the past, EPoX produced countless motherboards, many of which were renown for its excellent build, unique features, and great performance. EPoX has used VIA motherboard chipsets for the longest time. VIA's more recent KT133 and KT266 family chipsets were incorporated into extremely popular EPoX mainboards, like the 8KTA+ and 8KHA+. EPoX also made many other excellent motherboards using AMD, SiS, and Intel chipsets as well. Today, Hardware Extreme will evaluate EPoX's 4BEAV motherboard utilizing Intel's 845D northbridge.
The Motherboard: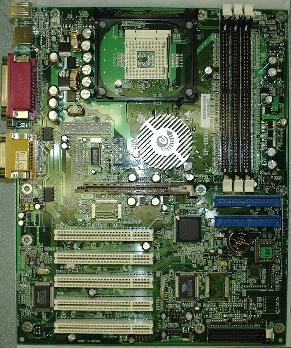 EPoX 4BEAV
(Click on image for close-up)
It's a green PCB! A green PCB may be old-fashioned, but it still looks cool.
The EPoX 4G4A+ is a clean-looking motherboard. It has six Sanyo 3300 uF (micro-Farad) and four Teapo 220 uF capacitors, three inductors, and four voltage regulators around the CPU socket to ensure a good electric signal. Similarly, four Teapo 1500 uF and smaller capacitors straddle the three 184-pin DDR memory slots.

In comparison to an Intel 845E-based motherboard our website tested recently, this EPoX motherboard has one additional memory slot. Unfortunately, that does not allow for more RAM support, as the Intel 845 series of chipsets will only allow up to 2-GB of DDR RAM or four memory banks. A double-sided stick of RAM takes up two banks. A single-sided one uses one bank. The use of two double-sided modules in two DIMM slots fills all four available banks. The EPoX manual included with the motherboard package clearly delineates on page 3-6 which memory configurations work.

Located right of the PCI slots is a VIA VT6202 chipset for USB 2.0.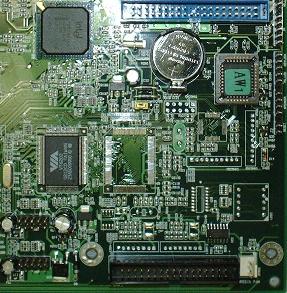 To the lower-right sector of the 4G4A+ is an Intel 82801BA southbridge chipset, CMOS battery, the BIOS, FDD connector, and EPoX debug LED. The Winbond W83627HF-AW I/O chip has moved to the other side, to the left of the last few PCI slots. It was surprising to see no EPoX patent DEBUG LED.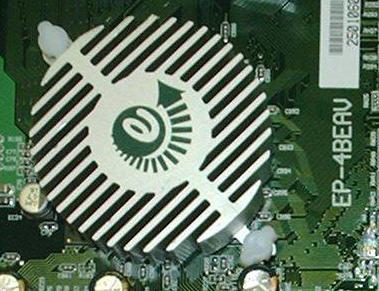 The Intel 82845 northbridge is sheltered by a cosmetically re-designed EPoX-branded heat-sink that resembles a ThermalTake Orb sink. From an enthusiast's view, it is reassuring to see a cooling fan. Beneath the heat-sink is an Intel northbridge that resembles a smaller-died FCPGA processor.
The Intel 82845 northbridge incorporates three important chipset components:
The Graphic Memory Controller Hub (GMCH) provides the interconnect between the DDR SDRAM and the system logic.
The I/O Controller Hub (ICH4) provides the I/O subsystem with access to the rest of the system. Additionally, it integrates many I/O functions, such as USB, Ultra ATA, LAN, etc.
The Firmware Hub (FWH) component is a key element to enabling a new security and manageability infrastructure for the PC platform. The device operates under the FWH interface and protocol. The hardware features of this device include a unique Random Number Generator (RNG), register-based locking, and hardware-based locking.
Now, let's take a look at the board's features.