EVGA nForce 650i ULTRA
Today's market is full of motherboards for the user to choose from. It's also the first component most people choose when building a personal PC, which makes the possibilities endless. Hoping to guide you through the foggy mist which is the motherboard market, I present you the new EVGA nForce 650i ULTRA.
Pricing:
Though EVGA prices the motherboard at $149.99 MSRP, it can be found at most online retailers for just over $100.
There are a few differences I'd like to note between the 650i ULTRA, 680i LT SLI, and 680i SLI:
| | | | | | | |
| --- | --- | --- | --- | --- | --- | --- |
| Product | SLI | third PCI-e slot option | NVIDIA SLI-Ready Memory | SATA | LAN | NVIDIA DualNet |
| 680i SLI | X | X | 1200 MHz | 6 | 2 | X |
| 680i LT SLI | X | | 800 MHz | 6 | 1 | |
| 650i ULTRA | | | | 4 | 1 | |
All three have:
Though this graph makes the 650i ULTRA look skimpy, it is certainly not. All three motherboards include 1333 MHz FSB specification, NVIDIA nTune utility to access every BIOS feature in Windows, a DualDDR2 memory controller that allows high bandwidth and low latency data access to the CPU and GPU, support of DDR2 800/667/533, NVIDIA MediaShield technology allowing quick setup, support for RAID 0, 1, 0+1, and 5, and NVIDIA FirstPacket allowing you to prioritize network traffic.
A1 or T1?:
You will notice in your searches that the 650i ULTRA comes in either T1 or A1. T1 means the motherboard comes in OEM packaging, while A1 means retail packaging. The A1 version also come with fewer cables, so make sure you have the cables you need if you opt for the A1. The A1, however, comes with a lifetime warranty, while the T1 comes with a "1 + 1 year registration," though both require registration.
Features:
The 650i motherboard is arranged in a LGA 775 socket, and accepts Intel processors. It has 4 x 240-pin DDR2 slots, and is capable up to 8GB. It comes with 1 PCI-E x16 slot, 2 PCI-E x1 slots, 3 PCI slots, 1 ATA port; 1 FDD port; 8 USB ports( 4 on the MB and 2 headers supporting 2 ports each); 4 SATA 3 Gb/s ports; 1 GigE Ethernet port; 6 mini-headphone jacks; PS/2 keyboard and mouse ports. I noticed there is only passive cooling over the GPU, which seems a bit iffy for serious overclockers. The 680i LT SLI comes with active cooling, and the 680i SLI comes with a heatpipe and optional fan.
Package contents:
The 650i ULTRA comes in the box with a rounded IDE cable, FDD cable, 4 SATA power and data cables, I/O Shield, User's Manual, Quick Start Guide, USB 2.0 port module, Driver CD, and motherboard backplate
Layout:
The layout of the motherboard was nicely done. There is plenty of space inbetween parts and results in a clean looking power cable layout, and a nice view of the motherboard inside a case. All plugs are situated on the outer edge of the case and tuck away nicely. I was slightly surprised to see that the motherboard only had two USB expansions inside though. There was no room to plug in my front USBs on my case.
DDR2 slots:
The DDR2 slots were located towards the edge of the motherboard and were only close to the 24-pin power plug, which did not interfere with memory removal at all.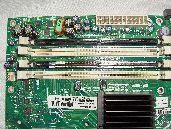 Battery, IDE and FDD plugs:
The battery was nicely placed on the edge of the motherboard for easy replacement. The IDE and FDD plugs were also located along the very edge of the motherboard, and though the IDE plug was facing in a strange direction, it wasn't hard to plug in, and tucked away nicely.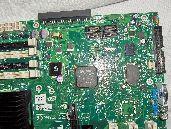 CPU:
The CPU area was easy to access and operate, though large coolers may block the 4-pin CPU power plug.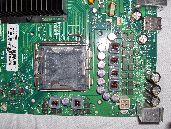 Diagnostics:
nTune:
NVIDIA includes a control panel which allows you to monitor your Networking, Performance, and System Stability called nTune. Through this program, you can configure FirstPacket, adjust motherboard settings (such as system clocks, memory timings, and system voltages), tune your system, view system information, or perform a stability test.
BIOS:
Standard CMOS Features:
This contains the date, time, IDE/SATA device detection, floppy drive configuration, Halt On, and memory configuration information.
Advances BIOS Features:
This contains removable disk priority, Hard Disk boot priority, CD-Rom boot priority, network boot priority settings, CPU internal cache, quick power on self test, APIC mode, MPS Version control, Full screen LOGO, and boot device ordering.
Advanced Chipset Features:
Overclocking recovery, System BIOS cacheable, Video RAM cacheable, HPET function, NVIDIA GPU Ex
- SYSTEM CLOCKS (contains CPU multiplier, PCIe Bus MHz, HT multipliers, Spread Spectrum settings)
- FSB & MEMORY CONFIGURATIONS(CPU frequencies, FSB memory clock, Memory Timing settings (which include tCL (CAS Latency), tRCD, (Row Address to Column Address Delay), tRP (Row Precharge Time), tRAS (Row Active Time), and Command Per Clock (CMD). Under the Advanced Memory tab: tRRD (Row Active to Row Active Delay), tRC (Row Cycle Time), tWR (Write Recovery Time), tWTR (Internal Write to Read Command Delay), tREF (Refresh Rate). This is where you overclock by changing the FSB.
- CPU CONFIGURATION (allows you to change CPUID MaxVal, Intel SpeedStep, CPU thermal control, C1E Halt state, disable bit, virtualization technology, and enable/disable CPU cores). Note: CPU VCore maxes out at 1.6V, CPU FSB maxes at 1.4V, memory only goes to 2.1V, NForce SPP maxes at 1.5V
- SYSTEM VOLTAGES (CPU core, CPU FSB, Memory, nForce SPP)

Integrated Peripherals:
IDE function setup, RAID configuration, USB configuration, HD audio, MAC LAN, IDE HDD block mode, Onboard FCD controller, and Onboard Serial Port 1
Power Management Setup:
ACPI function, ACPI Suspend Type, Soft-Off by PBTN, WOL(PME#) by SoftOff, Power on by Alarm, PWRON after PWR-Fail, Power On Function
PnP/PCI Configurations:
Init display first, reset configuration data, resource control, PCI/VGA palette snoop, maximum payload size
System Monitor:
Readouts of CPU temp, CPU, memory, battery voltages, fan speeds
Other Options:
Load defaults, Set password, Save and Exit setup, Exit without saving
Overclocking:
Pros:
The 650i has an overclocking protection function that retains the overclock settings. If the computer cannot properly boot, it originally boots with the default settings, but when the user enters the BIOS, all of their previous settings remain so the user can quickly fix their last mistake. nTune is a nice feature for people who only want to overclock their system slightly. The BIOS allowed the user to enter a FSB clock up to 2500MHz.
Cons:
I noticed that the Vdimm setting in the BIOS capped at 2.1V, when most RAM operates up to 2.2V. Though this is merely a security precaution, one would assume a person buying an overclocking motherboard would be adult enough to know max values. The nTune software is nice for people who only want to overclock their systems slightly, but I noticed that the software automatically overclocked the settings I had made in the BIOS. For instance, the BIOS and CPU-Z read 2550MHz for the CPU speed, but once I was in Windows and checked Windows properties, the speed read 2975MHz for the same setting. This was very misleading, and continued to happen even after nTune was uninstalled.
Conclusion:
The EVGA 650i ULTRA is not a bad buy since it is priced a lot cheaper than other motherboards in its class. It is neatly laid out and comes with plenty of connectors and available ports. Unfortunately, its poor overclocking software, as well as strange settings and occurrences on the board outweigh most of the highlights. I would suggest getting this board if you planned on mildly overclocking using nTune, or did not plan on overclocking at all. For standard users, it is a great deal, but for the avid overclocker, beware.