FIC K8-800T AMD 64 Motherboard

Review by Jason Jacobs on 05/12/04
Motherboard Provided by FIC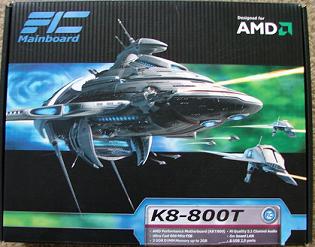 Going 64 bit:
64 bit is currently thought of as the processing of the future brought to us in the here and now. AMD was the first to market with a consumer level serious 64 bit processor. Shortly after AMD made other 64 bit processors available using the socket 754. The AMD "New Castle" processor, being used in this review, utilizes the X86-64 instruction set and includes support for SSE2, SSE, 3D NOW, and MMX+. New Castle is currently available in four speed incriments:
AMD 64 2800+
AMD 64 3000+
AMD 64 3200+
AMD 64 3400+
Shortly after AMD released the 64 bit processor there were motherboards available for them to run in, the problem was that 64 bit motherboards were expensive and the 64 bit AMD platform was untested. FIC (First International Computer) released an AMD 64 (socket 754) motherboard aimed at the mainstream market that would bring 64 bit computing to consumers at a price that was well below the competition. FIC used the stable and feature rich VIA KT800 chipset, which includes support for:
Key Features
• Supports full range of AMD Opteron/Athlon64 processors
• Hyper8 Technology enables 16-bit/1.6GHz HyperTransport processor-to-chipset link
• Support for AGP 8X/4X
• V-Link 533 MB/sec high bandwidth North/South Bridge interconnect
• Support for VIA Vinyl 5.1 & Vinyl Gold 7.1 Multichannel Audio Suite
• Serial ATA support for up to 4 devices
• Integrated V-RAID with RAID 0, RAID 1, RAID 0+1*, and JBOD (SATA) support
• Parallel ATA133/100/66 support for up to 4 devices
• Support for up to 8 USB 2.0/USB 1.1 ports, UHCI compliant
• Support for VIA Gigabit Ethernet companion controller & Integrated 10/100 Fast Ethernet
• Integrated MC'97 Modem
• Advanced power management capabilities including ACPI/OnNow
• 578-pin BGA North Bridge
• 539-pin BGA VT8237 South Bridge

You will notice that the Via KT800 supports Via Vinyl 5.1 and 7.1 sound. FIC choose to offer a more mainstream audio option when it incorporated the AC97 onboard audio. The benefit is that drivers and existing support is widely available for the AC97. The downside is reduced channels and lower quality audio in comparison to the Via Vinyl. The difference in quality would never be noticed unless you had a high end 7.1 speaker setup or are an audio fanatic.
The Via Chipset is layed out as follows: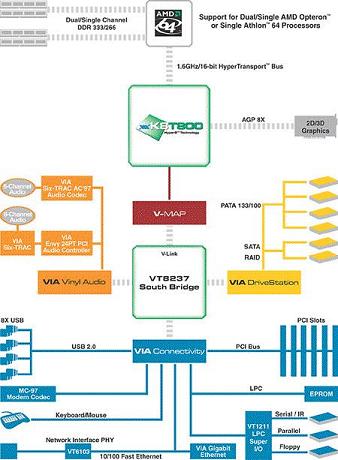 The 16 Bit bus has a dramatic effect on the ability of this board and chipset to carry data. Take a look at this comparison that VIA makes:

The total bandwidth of the VIA K8 series is 6.4GB/s according to VIA's chart. Later on we shall see if this extra bandwidth helps the FIC K8-800T.
Let's take a closer look at what comes with the K8-800T. . .
Shopping Matches for FIC K8 800T Motherboard: