PCChips M847LU SiS 746 + Xabre 200 Motherboard
versus
Nforce2 IGP
Review by Edward Chang, call sign: Big_E
February 1, 2003
Introduction
In two arenas, large chipset makers battle against each other to produce the fastest performing and most robust motherboard chipset, to see who gets the biggest piece of the pie.
In the recent past, SiS has made an impressive come back with their formidable AMD SiS735 and Intel SiS645 chipsets. These two good performing and value-minded motherboard chipset solutions allowed many users to own a low-cost, entry level computer system. SiS continues to rapidly grow and diversify to this day, starting of this new year with a bang. They revised their popular 745 and 645 chipsets and have launched their Dual-Channel DDR chipset solution for both AMD and Intel markets.
This review will focus on the new and improved SiS746 chipset, which is found on the PCChips M847LU motherboard. The PCChips M847LU made its debut at Comdex 2002. It was visually attractive in that it was the first motherboard to integrate onboard video supporting the latest DirectX 8.1 Pixel Shaders and moreover is independent of the Northbridge. That is, PCChips grafted a Xabre 200 video chipset with its own dedicated 64MB of embedded DDR RAM (also separate from the system memory). This design is revolutionary and can lead to endless possibilities. No more are integrated video solutions limited by size, complexity, and power consumption. With the introduction of an independent video entity on motherboards, who's to stop motherboard makers from putting say a GeForce4 Ti on a Nforce2-based motherboard or Radeon 9700 on ATI's next motherboard? As for PCChips, this is a step in the right direction to dispelling the stereotype that all integrated motherboards are inferior.
Company Profile:

ELITEGROUP Computer Systems Co., Ltd. was established in May 1987, during a rapid growth period of the world's information industry. Headquartered in Taiwan, ELITEGROUP has operations in North America, Europe, and Pacific Rim. During the first decade, ELITEGROUP focused its total resources into the research, development, and production of its main product, mainboards, the heart of the computer and has carved a definite niche for itself. Through its diligence and perseverance, ELITEGROUP has been recognized as one of the major mainboard companies in the world.

SiS

Silicon Integrated Systems Corp. (SiS), a leading core logic and graphics supplier, was founded in 1987 in the Hsin-chu Science-based Industrial Park in Taiwan. Combining a broad logic technology base (CPU, core logic, 3D graphics, connectivity) with advanced fab (0.18u/0.15u), the company is well positioned to be a leader in system-on-a-chip (SoC).

The company has been listed on the Taiwan Stock Exchange (TSE2363) since August, 1997.

Introducing the Motherboard: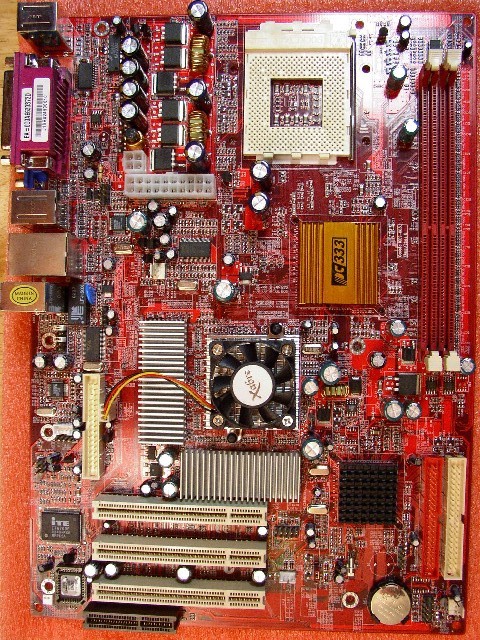 PCChips M847LU
PCChips has an appealing motherboard in their hands. The overall picture shows the M847 to be everything a motherboard should be. It supports for the standard 462-pin AMD configuration, thus enabling the use of a wide range of AMD processors from the Duron to even the upcoming Barton processor. The M847 also supports a maximum of 2 GB PC2700 333 MHz DDR RAM; supports AGP 8X; integrates an AC 97 V2.2 compliant audio controller and VIA VT6103 fast ethernet; an additional 3 PCI expansion slots; integrated USB 2.0 host controller; a CNR slot for OEM modems; embedded IEEE 1394a port for connecting firewire devices; a jumper-less BIOS for an enthusiast's overclocking needs; not to mention an enticing onboard Xabre 200 GPU equipped with 64 MB of DDR RAM. We would have liked to see an expansionary AGP slot, but if one plans on upgrading video cards, then just get a 746FX without the integrated video.
This motherboard has a Pentium 4 power connector built in, however our sample ran flawlessly in the benchmarks without have to use a P4 power supply.
It is surprising to see PCChips use such a small passive heatsink to cool the northbridge. The SiS chipsets ran good without an active cooling fan. This is also the first time we've seen a southbridge covered with a black chipset heatsink. Another interesting aspect of the motherboard is that is uses a competing VIA-based integrated LAN solution instead of SiS's own or even a third-party's like Realtek.
Given that this motherboard integrates so many components on a non-oversized PCB, PCChips had to use space efficiently. Consequently, some things appear out of place. The floppy drive connector is opposite of its usual locale. Meanwhile, the CPU socket, Northbridge, and memory slots appear unusually close to the right edge of the motherboard. All connectors still remain in reach of drive cables.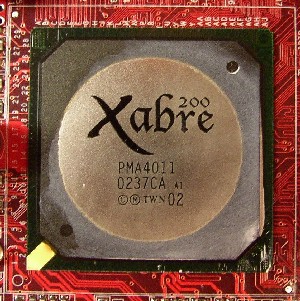 The built-on SiS Xabre200 GPU shown with the heatsink-fan removed.
Sheltered beneath the memory sinks are 64 megabytes of Samsung 5-nanosecond DDR SDRAM clocked at the specified 200 MHz.
Now, let's take a look at the board's specifications.