Compex DSR2216 16-Port Switch
Review by
David R. Hedges
on 08.27.2002

Retail Value: $105
Product provided by: Compex
Introduction
With networks springing up everywhere from homes to schools to workplaces and everywhere in between, affordable, scalable, and cutting-edge networking technology is no longer being sought by only large corporations. While most homes don't still don't have a need for much more than a router, a small hub or two, and possibly a print server, it's not at all uncommon for small offices, home offices (SOHO), or branches of large corporations to require a networking solution meeting certain criteria. Room for growth, a fair amount of ports, good performance, and some level of configuration are common demands for a network and its components.

Compex has been working since the 1980's to provide networking solutions for all types of users, from basic home users, to small and medium businesses, to enterprise platforms. While they're not yet as prominent as major manufacturers like Intel, Cisco, or Netgear, Compex is rapidly moving up in the market, and offering a diverse line of quality networking devices. They now offer a wide range of products from home phone line networking accessories to gigabit ethernet routers and switches. The Compex DSR2216 16-port 10/100 switch is a mid-range switch designed for small to medium businesses, but offers more advanced features than might be seen on comparable products.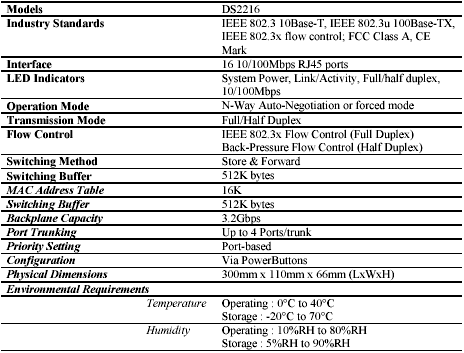 First Impressions
The box containing the DSR2216 is colorfully decorated with a prominent depiction of a basic network setup, with several Compex products playing key roles in the network. A brief description on the back doesn't contain the promotion usually found on retail boxes, but the higher-end products like this probably won't be found on most retail shelves. Inside the box, the switch is found contained in a plastic bag, suspended between two solid styrofoam blocks on each end. The user manual, power cord, mounting brackets and screws, and other documentation are contained in another bag below the switch. The packaging seemed very supportive and protective of the switch as compared to other comparable products.

The switch is 19" wide, which is the standard width for rack-mountable products. Composed of a very sturdy, gray painted metal, the casing and the construction seem very protective and long-lasting, much like that of the packaging. The back of the product contains only the jack for the power cord, which is the same as any standard computer or monitor power cable. The sides are covered with several ventilation slots which provide sufficient cooling to keep the rest of the casing at room temperature, even under heavy load. The top and bottom are simply plain, flat, gray metal panels (handy for holding plates, cups, cans, or whatever else one might normally put on his or her rack-mounted components). The real action for the switch goes on its front. With all 16 ports grouped tightly on the right, and the Compex logo on the left, quite a bit is left in the middle. In addition to the standard link/activity LEDs, link speed LEDs are associated with each port as well—a welcome addition on the switch. Two "Power Buttons" (discussed later), a power LED, and a few other indicator LEDs are also displayed on the front of the unit.