Linksys SPA-941 Business phone




Author:
Kerry Garrison
Date:
2006.04.18
Topic:
Networking
Provider:
Linksys
Manufacturer:
Linksys








Sipura was one of the first manufacturers to make a name for themselves in the VoIP arena. Sipura's analog telephone adapters (ATA) helped put Sipura on the map. Sipura's first foray into an actual phone (the SPA-841) was met with a lukewarm reaction. Shortly after the 841 was released, Cisco-owned Linksys, who was already licensing much of Sipura's technology, took a big jump into the game by purchasing Sipura. With the rebranding of the Sipura products we have been waiting to see what would come out next. The time has finally come it was worth the wait. The Linksys SPA-941 Business Phone feels like a cross between the 841 and the Cisco 7940 combining the features of the 841 with the style and quality of the Cisco phones.
Features
The SPA-941 is a full function SIP phone with 2 line call appearance (4 line optional) with an easy-to-use menu system controlled by the 4 way directional pad. Four softkeys are used to control different functions based on what screen you are on.
SPA941 Hardware Features:

- (1) RJ-45 10BaseT Ethernet Port
- High Quality, "Cisco/Linksys" Distinctive ID
- Hi-Resolution Pixel Based Display
- 128 x 64 vs. 128 x 48
- Four Line Keys
- Four Soft Keys
- "Solid" Handset
- Headset Port – 2.5mm
- Full Duplex Speakerphone
- Interoperability with Asterisk and other SIP based platforms
- Excellent Voice Quality
- Secure Calling via sRTP
- Network Based Ring Tone Support
- Call Transfer, DND, Conferencing, Call FWD, etc.
- SIP B and Bridged Line Appearance Support
- Remote Provisioning via HTTPS, HTTP, TFTP
- Support G177u, G711a, G726, G729a, and G723 codecs
- Message waiting indicator light
- Handset, Headset, and Speakerphone Gain controls
- VLAN ability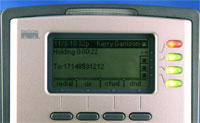 While we have seen posts from people saying that the phone is just an SPA-841 with a new case, this is like saying a Porsche is the same as a Hyundai because they both have engines and four wheels. There are obvious improvements over the older 841 including much improved speakerphone quality, far better handset "feel", improved LCD screen, additional soft keys, directional pad for navigation, lighted buttons for line appearance, headset, and speakerphone, and a number of changes to the web admin system. This goes well beyond simply repacking the 841. While there are plenty of similarities, the 941 is a big step forward from its predecessor.