HP - Elite Autofocus Webcam
HP - Elite Autofocus Webcam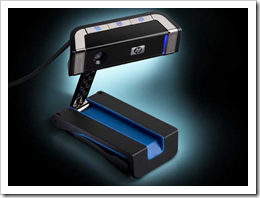 Introduction
HP is one of the most well-known computer brands in America. Known best for building personal computers, HP has also been making digital cameras. HP has established its name in computer products and with the release of the HP Elite Autofocus Webcam, HP is hoping to do the same in the webcam market. With the ability to take still image shots of up to 12MP and record video at an amazing 3MP, the presence of the Elite Autofocus Webcam is not to be taken lightly. HP has even included a privacy shutter so you don't have to worry about unwanted images streaming over the internet. Is the HP Elite Autofocus Webcam all its made out to be? Lets Find out!!
Packaging
Like most smaller computer accessories, the Elite Autofocus Webcam arrived in plastic packaging. It was wrapped and held in place by the type of plastic that you have to cut and rip apart to open. Although i greatly dislike this packaging, I must admit that it was done well. The packaging was designed so you could see the camera at the top of the box, something that should be appreciated by the consumer.
| | |
| --- | --- |
| | |
| Unopened Package Front | Unopened Package Rear |
| | |
| Unopened Package | Webcam Bundle - Out of Plastic |
| | |
| Software CD and Quick Setup Guide | Unwrapped Webcam |
What HP Has to Say
"Chatting with family and friends is much more fun and personal when you're face-to-face. Long distance is no longer a problem thanks to HP Elite Autofocus Webcam."
"Do you miss your friend's smile? Ever want to make funny faces and "goo-goo" sounds at your baby niece or nephew across the country? Top your computer with an HP Elite Autofocus Webcam and open the lines of clear communication."
"So much to do
Create videos to post on the Internet*
Chat face-to-face over the Internet*
Send a clear picture with 3 Megapixel core sensor and 12 Megapixel still photos (through software)
Record high-definition video quality
Program quick launch buttons to save time
Quick and easy setup Set up your webcam wherever it's convenient for you

Sit it on a desk
Attach it to your existing monitor
Use the optional HP Easy Clip system
Then Plug into your USB (1.1 or 2.0) port "
Real Time Pricing: