eDimensional AudioFX Gaming Headset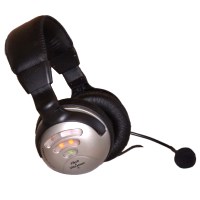 Introduction
If you've been playing games for a long time, especially first person shooter style games you know how much a good sound system can play an integral part in your playing experience. Being able to hear your enemy's footsteps and gunfire is one of the most important aspects in strategizing an attack in a first person game environment, and those with exceptional skill in this field will find they simply cannot play nearly as well without sound.
However even with some of the best sound systems out there some would argue nothing is as good as a good set of headphones. Being able to turn up the volume as loud as you want and no distractions makes headphones a good choice for a lot of first person shooter gamers. And now with some high quality headphones coming with built in microphones to use with Teamspeak or something similar to interact with your online teammates, it makes it that much more of an intense gaming experience.
With that said, that brings us to our review today which is a set of headphones built by eDimensional but sent over to us by CrazyPC.com. These headphones feature a microphone, bass-boosting force feedback, and a funky LED meter on each ear piece. Let's take a closer look.