Microsoft Wireless Optical Desktop 2.0
Review by Jason Jacobs on 4/21/04
Wireless Desktop Provided by Microsoft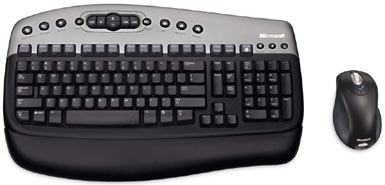 Going Wireless:
Wireless is thought of by most users as a feature that they don't need. Its an optional extra that's not worth the money that the hardware costs. After all its just a mouse and keyboard right? Three years ago most mice had a ball and then optical mice were released to much the same opinions as people have toward wireless now. Time has proven that optical mice are not only superior, but that they break and skip less while providing increased DPI (dots per inch). For the gaming community this was a vast performance increase over the ball mice. For the average consumer and office worker, it meant increased productivity and no more need to clean the ball or internal X and Y axis rails to keep the mouse functioning.
Think of wireless as Cruise Control or a Sunroof for a car. Its not an absolutely necessary part of the overall machine, however, once you've test driven a car that has these features you know you want it in yours. It makes using the machine much more enjoyable and functional. In the end do you have to buy wireless? Of course not, you can stick with your standard wired keyboard and mouse. In the end will you want wireless?
Lets take the Microsoft Wireless Optical Desktop 2.0 for a test drive.
Shopping Matches for Microsoft Wireless Optical Desktop 2.0: