PD Scientific Wolfclaw Type II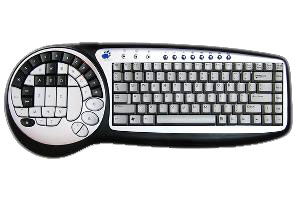 Introduction
Gaming on the PC is bigger and better than ever. According to the ESA (Entertainment Software Association) 50 percent of Americans play video games, which roughly makes out to be 148 million people. And that's just in the United States. So it would only make sense for companies to take advantage of these growing numbers and come out with new products to enhance and/or make gaming easier for everyone. Of course we have joysticks, game pads, and racing wheels, but that can only be applied to certain games. First person shooter games on the other hand are one of the main game genres that is sort of left out of the picture when it comes to gaming hardware. Sure you can get FPS based game pads however me and you both know that using a keyboard and mouse is MUCH easier.
On a personal note, it's like when my brother kicks my ass at Halo, it's because I can't stand using a game pad for first person shooter games. I know if I were to hook up a keyboard and mouse to the XBox and duel with him then he would be the one getting trampled. Though that's not to say you can't be a skilled gamer with a game pad. Anyway, now things may have just gotten a little easier for first person shooter players on the PC. PD Scientific, a little company based in Singapore has recently came out with what they call "The ultimate gaming keyboard for FPS games". It's dubbed the Wolfclaw Type II. And let me tell you at first glance this thing is sexy.
About PD Scientific
PD Scientific Pte Ltd began with an enterprising spirit of responding to the rising demand for the need of ultimate gaming tools in the gaming community. With its setup in Singapore, a place conducive for the development of new technologies, PD Scientific Pte Ltd developed a range of upcoming products for the gaming community.
As a technological innovation company, PD Scientific Pte Ltd develops "out of the box" products to improve lifestyles in a modern and high-technological savvy environment. With its flagship product, the Wolf Claw? Ultimate Gaming Keyboard for FPS Gamers, PD Scientific Pte Ltd aims to change the gaming keyboard front, offering a serious alternative for gaming.