Backup-Pal Cell Phone Contacts Backup Device
Backup-Pal phonebook backup tool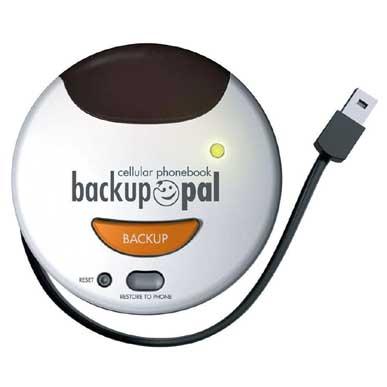 I can't express the frustration involved when a phone dies, is lost, or stolen. All of your contacts are gone forever. Important numbers, names, and information are completely gone and sometimes for good. That is of course unless you back them up. Backing up your cell phone contacts through your computer can involve up to 5 drivers and special applications! What if your computer dies, or the more likely scenario that if the process is overly complicated? The people at Advanced Wireless Solutions have come up with a brilliant idea - a standalone cell phone backup tool called the Backup-Pal. The Backup-Pal painlessly transfers your contacts off of your wireless device, and can even place the contacts back onto your phone! It is perfect for new phones, saving you hours of manually typing in contacts. Let's take a look at this product and see whether or not it stands up to current phone back-up techniques.
Backup-Pal's Take:
"Introducing Backup-Pal™, the world's first consumer based portable and universal cellular phonebook backup device that does not require a personal computer, software installation, or monthly subscription to a carrier's data service. At the touch of a button, the battery-powered Backup-Pal™ instantly saves a backup copy of the user's contact information from their cellular phone."
Packaging:
Click on the Thumbnails above for a Larger Image
The Backup-Pal comes packaged in a fun semi-circular orange and blue package. On the front, it specifies that the Backup-Pal works with select Motorola, Nokia, and Samsung phones, with most models supported. The Backup-Pal is placed in a plastic cradle, with two different Motorola tips included. There is an instruction manual and Motorola Setup/Connection Guide included as well. The two included tips can be plugged into the end of the Backup-Pal, and some models don't require the conversion tips.

Click on the Thumbnail above for a Larger Image
Features:
High Product Demand

Upon losing a cellular phone, 67% of cell phone users are more concerned with losing their phonebook contacts over replacing the lost cell phone handset

Simple and Reliable

One-touch Backup. One-touch Restore. Very easy to use!

Saves Frustration

Eliminate the aggravation of manually re-entering contacts one letter at a time into a new phone

Quick and Easy Transfer

Transfer contacts from one cell phone to another, regardless of the cell phone manufacturer or wireless carrier

No Thinking Required

NO PC use required. NO software installation required. NO expensive cable purchase required

Safe and Secure

You stay in control of your backed-up contacts
Specifications: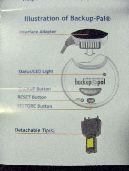 Click on the Thumbnail above for a Larger Image
Power
Size

diameter: 2.7" (68.0mm)
height: 1.0" (25.5mm)

Weight
Interface
Memory

Stores up to 2,000 Contacts

Supported phone brands

Nokia, Sony Ericsson, Siemens, Samsung, Motorola, Audiovox, LG, Kyocera, Sanyo, other popular brands
Testing:
We tested the Backup-Pal using a Motorola RAZR V3c. We tested the product following the manual's directions. Using your fully charged phone, simply look your phone up on the documentation list provided. Most of the products need to be changed over to "Data Connection" mode through the menu and settings, though the RAZR V3c did not need to. We reset the RAZR and plugged it into the Backup-Pal. The "BACKUP" button is pressed once, and follows one of three different light patterns. The patterns are illustrated in the pictures below.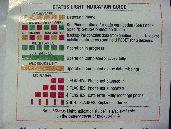 Click on the Thumbnail above for a Larger Image
When the light goes solid green, the phone is backed up! That's it! If you have a new phone, you can now plug it in and press "RESTORE." This will move the contact list onto your new phone. It can even transfer contacts via infrared. If you don't have a new phone, are worried about theft or loss, you can relax and know that your contacts are safe if your current phone is lost for any reason!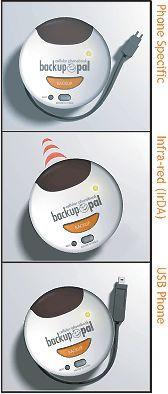 Conclusion: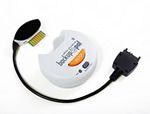 The Backup-Pal is an amazing product that each family should own. With the main unit costing $49.99 with an attachment, and an upgrade kit costing $19.99, it is a small price to pay for the unlimited safety of your contacts. Your entire contact list with names, numbers, and email addresses can be transferred to a new phone within minutes.
The two major applications of the Backup-Pal are:
1. Keep your contacts safe in case your phone dies
2. Use the Backup-Pal to move your contacts onto a new phone or device.