AMD Socket 939 3800+
Review by Jason Jacobs on 7/19/04
Processor Provided by AMD

AMD
My first experience with AMD was a few years ago, when I moved from an Intel Pentium 2 500 to an AMD Thunderbird 1ghz. I had read all the reviews and "done my homework," and acquired a rare and highly sought-after blue core processor. I remember my concern simply because this was not an Intel, but the "WOW factor" I experienced when the machine booted for the first time is my strongest memory from my first experience with AMD. I can see the slight smiles on your faces now; I'm sure many of you know what I mean by the "wow factor," from your own experiences similar to mine. This is what every enthusiast hopes to get from an upgrade. We all look for it, no matter what hardware we are upgrading from or to. Will it impress me? Will it deliver the extra boost I've been seeking? I have to admit that I was hoping for the "wow factor" to kick in with the 939. Did it kick in? Just keep reading.
Now of course, when purchasing a processor, a consumer will most likely want the following attributes:
Raw speed in Mhz
Power in Processing
Low Thermal Output
Aggressive Price
AMD seeks to address each of those concerns, and more, with its new processors. A few years ago, AMD introduced the Athlon processor and proved that Intel wasn't the only manufacturer that could produce an advanced cpu to meet the needs of consumers on a competitive basis. Consumers not only had new contender on the block, but it was one that looked ready to give Intel a serious run for its money. AMD was able to make cheaper and faster processors than its competition, in many circumstances, which drew a substantial following from the enthusiast market. Continuing the trend, AMD released the next generation of processor, taking consumers into a realm of affordable 64 bit processing with the socket 754 and socket 940. Among the highlights of the 754 and 940 were an on-die memory controller and the ability to process in both 64-bit and 32-bit modes, with additional GPR's and new x86-64 extensions available in 64-bit mode. Socket 754 was and is the consumer/workstation processor, while the 940 is focused on the server market. AMD knew consumers wouldn't be ready to drop their 32-bit programs and software companies to date are slow to jump onto the 64-bit bandwagon so AMD included the ability to run in 32-bit as well as 64. AMD offered the socket 754 at a time when Intel had no (and continues to have no) consumer based 64 bit offering. The 754 brought excellent gains to consumers in raw processing power, price, and low thermal output. Intel released the Pentium 4 Prescott which showed excellent performance, but had other drawbacks. The P4 Prescott delivered undesirable overhead in overclocking, consumed a lot of power and therefore intrinsically produced a lot of heat, and still offered no 64-bit support. AMD, not content with the success of 754 and 940, pushed further to add support for dual-channel memory, shrink its die further, and provide other assorted refinements. Socket 939 processors come in two main flavors: the performance-rated AMD 64 3500+ and 3800+ processors, and the FX-53 processor. The main difference between these two is that the FX series has twice the cache of the 3500 or 3800, boasting 1MB of L2 cache. Techwarelabs is happy to offer our review of the AMD Socket 939 3800+.
AMD 64 bit Sockets/CPU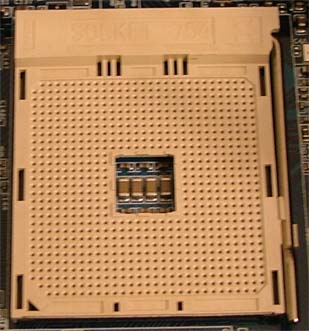 Socket 754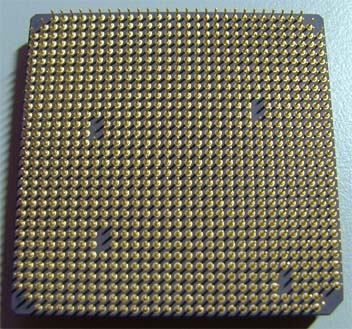 Socket 940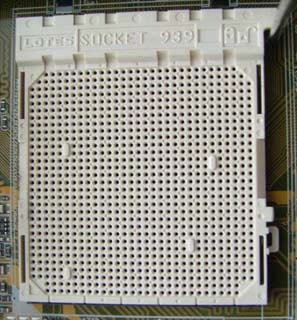 Socket 939
Although little difference can be seen between the 940 and 939 cpu and socket, the major difference is the ability for the 939 to use non-ecc, non-registered RAM, as well as the addition of a second memory channel controller for a consumer 32bit chip. Here is a closer look at the 3800+:
The AMD Socket 939 3800+
ATHLON 64 TECH SPECS:
L1 Cache Size: 64KB data + 64KB instruction = 128KB Total
L2 Cache Size: 512KB "Newcastle" core
CPU Core Frequency: 2.40GHz for 3800+
CPU to Memory Controller: 2.40GHz for 3800+
Memory Controller: Integrated 128-bit wide memory controller
Types of Memory: PC1600, PC2100, PC2700, and PC3200 DDR memory
HyperTransport Links: 1
HyperTransport Spec: 2GHz
Effective data bandwidth: Up to 14.4 GB/sec (8GB/sec HyperTransport bandwidth plus 6.4GB/sec memory bandwidth)
Packaging: 939-pin organic micro-PGA
Fab location: AMD's Fab 30
Process Technology: 130nm (.13-micron) Silicon on Insulator (SOI)
Approximate Transistor count: 68.5 million
Approximate Die Size: 144mm2
Nominal Voltage: 1.50 V
Max Ambient Case Temp: 70 degrees Celsius
Max Thermal Power: 89 W (Maximum Thermal Output)

Features and Improvements
Shopping Matches for AMD Athlon 3800+ Socket 939: