QNAP TS-409U Turbo NAS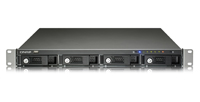 Introduction
The business community like the consumer community is always looking for the best product for the money to meet its needs. The engineers at QNAP have developed a NAS device which is very dynamic with its ability and functions that the end consumer business or otherwise will be able to change the configuration of its TS-409U Turbo NAS several times without the need to take an extended outage to upgrade its components. The TS-409U also comes with a multitude of features which and be used to offload tasks which may be hosted by other servers within the businesses' LAN allowing for additional uptime.

Presently I'm working for a large enterprise company with physical servers somewhere in the thousands and scattered around the world. With my scope of responsibility being North and South Americas which consists of small data centers to small offices where a single file server resides, the question of "How can we provide the standards for domain authentication, print serving, file sharing and backup sometimes over a slow network connection for the cheapest price?" Now being part of a large enterprise, we have the major server manufactures at our beck and call, but those friends of mine who are working for the mid size companies or the consultants who service the small businesses who don't have an I. T. Engineer on staff are asking the same questions. QNAP has product line which is worth looking at to see if they have a solution for you or your customer. TWL has reviewed a few NAS devices before from Synology's DS207+ to ICY BOX IB-NAS4220-B and a few others and none of them at the time of this review have the disk migration feature that the TS-409U has which allows the system administrator to purchase a set of up to four hard drives today and some time in the future be able to replace them with larger drives to allow for more disk storage without taking an outage or migrating a single byte of data off the NAS device. Now, don't misunderstand, enterprise servers and a few high-end NAS devices allow you to take a four drive NAS which has two drives in a RAID Zero mirror and convert it to a three or four drive RAID 5 without wiping out the data or taking an outage, but so far only QNAP allows you to completely replace all the drives (one at a time) and then extend the existing volume to a larger size without starting over. Now, those small businesses who can afford the TS-409U and maybe four hard drives of 500 Gigs and setup RAID 5 to give them 1.5 Terabytes of space now have the ability to purchase larger drives (ex 1.5 Terabyte) later for a lesser price and can do a one for one replace and gain the additional space (4.5 Terabytes after migration) without the need to take an outage on the NAS device and having to find 1.5 Terabytes of temporary storage to make a copy of all data while the larger hard drives are installed configured for a RAID 5 and then copied back.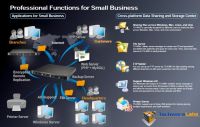 Lets take a look at all the other features the TS-409U has and we will come back to this very unique feature.
REALTIME PRICING