HighPoint RocketRAID 2640X4
HighPoint RocketRAID 2640X4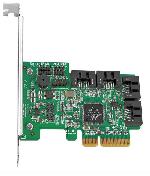 Introduction
Are you a high end gamer trying to get that extra little bit out of the performance of your rig? Have you considered the increase in your observed gaming performance that improving your hard drives could have? Still running IDE drives from the late 90s? This is the review for you. Today, I tackle the HighPoint RocketRAID 2640X4 PCI-Express x4 SAS RAID Controller. As an entry level SAS controller, the RocketRAID 2640X4 is a quality card with all of the basic features that one would expect in a RAID card. This card is built on the PCI-Express standard and requires a x4 rail to function; PCI-Express allows a low latency, high bandwidth connection suitable for high performance gaming. If you are tired of waiting for your HalfLife2 levels to load and transition, this is the card for you. Let's take a look at the complete specification from the manufacturer's website.
Product Specification
To begin, here is a list of the supporting documentation as provided by the manufacturer, these links lead to the manufacturer website. If you look at the performance report, you will see that their in house testing provided some pretty incredible results! When we get to the testing phase, we will see how our numbers stack up.

Host Adapter Architecture
PCI-Express x4
4 Internal SAS/SATA 3Gb/s Device Ports
Up to 4 SAS/SATA Hard Drives
NCQ (Native Command Queuing)
Low Profile
Advance RAID Features
• Support RAID 0,1,5,10 and JBOD
• Multiple RAID support
• Multiple logical drive support
• BIOS booting support
• Online Array roaming
• Automatic drive (insert / remove) detection
• Automatic RAID rebuild
• 64bit LBA support greater than 2TB per volume
• S.M.A.R.T (Early Warning System)
• TerabyteGuard ™ for data protection and reliability
• Bad sector repair and remapping to reduce dropped drives

Array Monitors, Alerts and Indicators
• Hard Drive LED Indicators (Activity and Failed)
• Email Notification
• Alarm/Buzzer alerts for drive/array failure
• Enclosure Management support with I2C and SGPIO
RAID Management
• Online Capacity Expansion (OCE) and Online RAID Level Migration (OLRM)
• Quick and Background initialization for instant RAID configuration
• Write Back and Write Through support
• API library for customization
• CLI (Command Line Interface)
• Web GUI RAID management (local and remote monitoring)
• SHI (Drive analysis driven from S.M.A.R.T)
Operating System Support
• Windows (2000, XP, x64, 2003, 2008, Vista (32 and 64) Bit)
• Linux (Fedora Core, Red Hat Enterprise / CentOS, SuSE)
• Mac OS X 10.4.x and above
• FreeBSD
• Linux Open Source
Limited Warranty
3 years
REALTIME PRICING