Western Digital Raptor WD740GD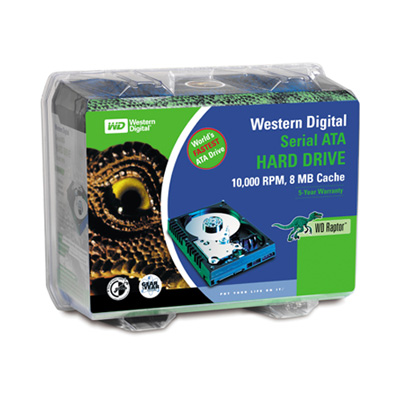 Here we are again with another Western Digital hard drive review, however this one isn't exactly new. Unless you've been under a rock and away from the computer technology world then you probably know about or at least heard of the Western Digital 74GB Raptor hard drive. The model is the WD740GD, and it is a 10,000RPM, 8MB cache, 4.5ms seek, Serial ATA hard drive with Tagged Command Queuing. TCQ is very similar to the newer NCQ (Native Command Queuing) which is explained here in our 400GB head to head article.
Just like you, we've read all about this drive and it no doubt sounds good. So good in-fact, arguably it is the fastest desktop hard drive available on the market short of SCSI, and even then it apparently competes with some of the best SCSI drives out there as well. Well of course we had to eventually get our dirty paws on this drive and give it a round of benchmarks ourselves. So since almost all of you should know everything there is to know about this drive then we will simply give you some specifications and get straight to the benchmarks.