HighPoint RocketRAID 3520 SATA Raid Controller
HighPoint RocketRAID 3520 SATA Raid Controller

Test Setup:
Tyan S2912
Dual AMD Barcelona 2350 CPU's
4GB DDR-2 667 ECC Kingston Ram
8 Maxtor 500GB SATA II Hard Drives
Antec 1000W PSU
Windows XP 32 SP2 and 64 Bit Editions
Windows Vista
Windows 2003 Small Business Server SP1
Windows Longhorn Beta 2
Suse Enterprise Linux
FreeBSD
Setup and Installation
Installation was very easy and required only basic knowledge of the internal slots on our server board. Hooking up the 8 drives will take you far less time than actually installing the 8 drives into your system and the cables provided were both easy to use as well as being more than long enough for any server or home system we can imagine. The cables are encased in flex sleeving which makes them much more tidy and easy to handle. With only about 30 minutes of work we had the controller card installed as well as the hard drives and cables attached.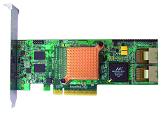 Click on the Thumbnail for a Larger Image
We used a 1000 watt power supply in our test machine as we did not want any concerns over under powering all of this hardware.
We tested the controller primarily using Windows Server 2003, XP SP2 and Suse Enterprise Linux.
Setup Issues:
With regards to installation we ran into immediate issues with our test setup when using all 8 hard drives for a 4TB array. We tried all different drivers listed on the High Point site as well as different bios settings and no matter what we selected Windows 2003, XP, and Vista refused to install on the 4TB array. We did not have these issues under FreeBSD or Suse Linux. We found that this issue is a rather well known limitation of NTFS with a maximum addressable volume size of 2TB.
Information about this can be found here.
UPDATE: When we asked the engineers at High Point about this issue it seems that they have found a workaround for it which will allow 32 bit OS's to see beyond 2TB of size by varying the default sector size. The full directions for this process can be found here.
What we ended up doing was to create two 2TB volumes on the controller and installing each of our OS's onto one individually.
Testing:
HDTACH:
From the HD Tach Website: "HD Tach is a low level hardware benchmark for random access read/write storage devices such as hard drives, removable drives (ZIP/JAZZ), flash devices, and RAID arrays. HD Tach uses custom device drivers and other low level Windows interfaces to bypass as many layers of software as possible and get as close to the physical performance of the device possible."
| | | |
| --- | --- | --- |
| Hard Disk Technology Type | Windows 2003 Server | Windows XP SP2 |
| High Point 3520 Raid Array 4 x 500GB Maxtor SATA II | 749MB/s | 720MB/s |
| Ultra SCSI 320 | 320MB/s | 320MB/s |
| SATA II | 150MB/s | 150MB/s |
| ATA Ultra DMA 6 | 133MB/s | 133MB/s |
It is important to note that the performance of the hard drive types that the High Point 3520 is compared against here are theoretical which means that while SATA I is rated at 150 MB/s in reality a user will never see that speed. The High Point 3520 managed an amazing 749MB/s in conjunction with Windows 2003 SBS.
| | | |
| --- | --- | --- |
| Windows Install Time | Windows 2003 Server | Windows XP SP2 |
| High Point 3520 Raid Array 4 x 500GB Maxtor SATA II | 15:22 minutes | 12:11 Minutes |
We managed a complete install of Windows XP SP2 from inserting the disk to the actual desktop of a little over 12 minutes, and for Windows 2003 SBS we accomplished the same in about 15.5 minutes. These are phenominal speeds and during the install process we never heard the CD/DVD idle or spin down once. The 3520 could take everything we threw at it.
Click on the Thumbnails for a Larger Image