Lite-On SOHW-812S DVD±RW Burner

Reviewed by James Sams on 05/20/2004
| | |
| --- | --- |
| Estimated Retail Value: | $150.00 |
| Estimated Street Price (non-OEM): | $125.00 |
Overview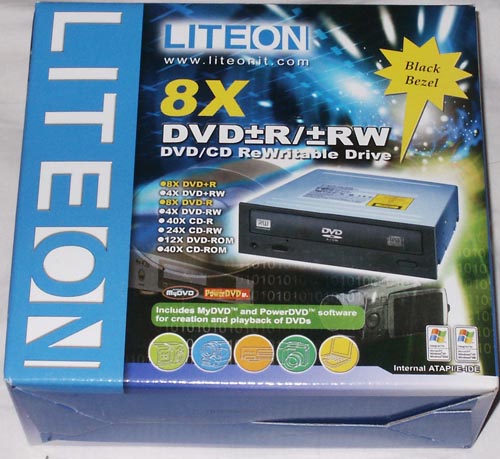 DVD burners are finally coming into their own. They are now affordable (though the media is still pricey), and the burn times no longer require a night's sleep to finish. The likelihood of coming out with a full-fledged coaster has also diminished greatly, with the improvements in buffer-underun technology from years of CD-burning having been fully adapted to fit the needs of DVD-burners. Unfortunately, pseudo-coasters are still an issue with the plethora of DVD formats not being compatible in all players, even relatively modern oens. Couple this with the forthcoming blue-laser-based DVD formats, and the problem grows further. However, we have to commend Lite-On for making a software tool, BookType, which can change the manner in which DVD's are burned to make them look more like DVD-ROM's for greater compatability in older players.
We are also happy to see manufacturers improve the speed of CD reading and (re)writing in the DVD-burners. We were happy to see that the need for two optical drives has truly left us, as this DVD burner can burn CD's in under 3 minutes. The lack of Mount Rainier support is disappointing, but unnecessary with DVD+RW for your backup and data-storage needs.
The package Lite-On includes with their drive is, or should be, fairly standard. An English only manual, a multi-lingual manual (including English, no difference could be discerned), quick-install poster, an advertisement for a console unit, Cyberlink's PowerDVD, Sonic's MyDVD, an analog audio cord (4 pin cord to soundcard), registration card, 1 8xDVD+R and 1 4xDVD-R. We were disappointed to see that they did not include a wider range of media that could take advantage of the drive's full potential.
Shopping Matches for Lite-On SOHW-812S DVD±RW Burner: