Trekstor 16MB Thumbdrive Smart Review
Review by Paul Machado on June 12, 2002
Product Supplied By: Trekstor
Retail Price: $80CDN, $50USD
Company Overview:
Trek 2000 Ltd, a pioneer in mobile storage solution, was founded in 1989. In Feb 2000, Trek introduced the Thumbdrive, a portable USB-powered solid-state storage solution that brought about the beginning of the end of floppy drives.
The market for USB-powered solid-state storage solution is projected to grow exponentially in the coming years, as more businesses and consumers seek greater storage, reliability and robustness. Started as a business solution largely used by professionals, Trek sees the consumer market for the solution ready to explode, with the technologies maturing and the increasing trend of data availability on the go. Trek's Thumbdrive products are sold in more than 25 countries.
The Thumbdrives are growing increasingly pervasive as security and privacy becomes ever more important. As more people rely on computers and Internet to access and create information, personal secure storage will attain higher acceptance. The Thumbdrives combined with biometric and encryption technologies are the ideal individual data storage solution, offering protection against intrusion.
Product Introduction:
In this new age of technology products are getting smaller, smarter and more convenient for end users. Technology has become part of our everyday lifestyle. Such things as cell phones, PDA's, and laptops are all designed with ease of portability in mind. They are made light, small and designed to go wherever you go. There is a new trend in town and that is being able to carry amounts of data around with you to be able to access elsewhere. The leading product in this trend is the Thumbdrive. Trek USA is one of the leading companies to offer products of this new trend. Their Thumbdrive products offer great portability with its thumb size design and ease of use. With its USB interface data can be transferred quickly and simply without having to load any drivers (except for Windows 98 and 98SE) which makes this product stand above the competition.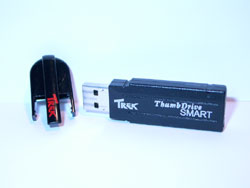 Product Specifications:
Interface
USB Specification 1.1
Memory
8MB / 16MB / 32MB / 64MB / 128MB
Dimensions
64mm(L) x 18mm(W) x 8mm(H)
Weight
12g
Data Transfer speed
Read Operation: 700 Kbytes/s
Write Operation: 350 Kbytes/s
Power supply
USB bus-powered
LED indication
Solid: Thumbdrive connected
Blinking: Data transmitting and receiving
Operating Temperature
0oC ~ 50oC
Storage Temperature
-20oC ~ 80oC
Relative Humidity
During Operation: 20% ~ 80%
During Storage: 5% ~ 95%
Certification
FCC, CE, VCCI, CTICK, BSMI, MIC
Product Packaging:
The Thumbdrive comes packed in a box much larger than itself. Complete with a window to display the Thumbdrive itself this product sure would look great on store shelves. Included with the Thumbdrive is a driver CD for systems with older operations systems (ie. Wondows 98) and the electronic manual, a warranty card, a label and the product itself.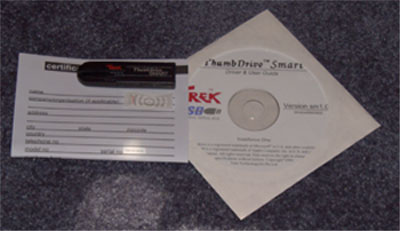 Lets now have a look at some of the features offered with the Thumbdrive SMART.