The Lite-On LTR-40125S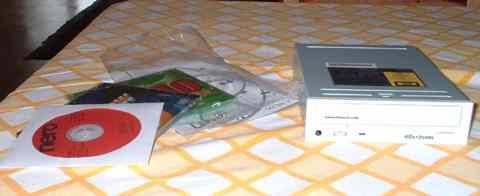 In the Box
Lite-On LTR-40125S
Manual
IDE Cable
Screws
Audio Cable
Software/Drivers CD
One 40x rated blank CD
One 12x rated blank CDRW
The documentation included with the Lite-On was sparse at best and is not very helpful for a new user.
Features
40X (Zone-CLV) Record, 12X (CLV) Re-Write & 48X (CAV) Read technology.
E-IDE Interface, support up to Ultra-DMA mode 2.
Innovated SMART-BURN® technology to automatically check media quality and set limit to burning speed to ensure successful writing sessions & data retainability (can be turned off)
Buffer underrun error free & automatically adjust writing strategy plus running OPC to meet various burning condition. (always active)
Innovated SMART-X technology, support up to 48X speed Digital Audio Extration (DAE) and high speed VCD data extraction
Supporting Mt. Rainier ; Plug & Play ; Emergency manual eject
Supporting Fixed & Variable Packet, TAO, SAO, DAO, Raw Mode, Over-Burn.
Read/Write CD, CD-R, CD-RW Disc up to 99min. (Orange Book Part 2,3)
Easy-Tray® Design for Both Horizontally & Vertically Use
Gear-Driven tray disc-loading mechaniasm to Improve reliability & life, no any belt-loose belt-broken issue.
VAS® Vibration Absorber System Mechanisam to reduce vibration & noise during read & write
Use Flash ROM supports internet firmware upgrade


The drive has the standard headphone jack, volume control, and eject load button on the font. On the back it has the standard four-pin power connector, IDE interface, jumper settings (the default is slave), and analogue out to the sound card.
Specifications and Clone CD Info
The Lite-On supports all available formats, and comes with out-of-the-box Mt. Rainer support. Like the Plextor and the Teac, the Lite-On has buffer under run technology to adjust to varying burning conditions and allow the drive to stop and resume burning; as well as the ability to handle real-time evaluative write strategies to optimize burning onto any given media.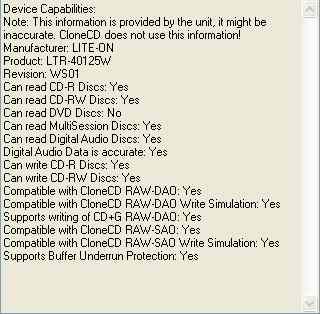 A Few Extras
The Lite-On has two unique features that allow it to stand out from the other two burners here today. First, it has VAS (Vibration Absorber System) to absorb shock and vibration during reading and writing, which reduces optical jitter as well as audible noise. The result of this is an overall quieter drive. Second, the Lite-On (S series only) burns differntly than the other high-speed recorders. Practically every other CD-RW drive out there that burns faster than 20x burns in a write strategy known as Z-CLV (Zone-Constant Linear Velocity). Basically, for instance, for a determined portion of the disc the writer will write at 20x, and then, when it hits a new section, it will burn at 24x, and then 32x, and so forth. This allows the drive to maintain reasonable RPMs. However, the Lite-On W drive writes in P-CAV (Progressive-Constant Angular Velocity), in which the disc spins gradually faster and faster. The overall effect is that the average writing speed should be higher by a good one or two X.