HighPoint RocketRAID 404
Reviewed by Akimoto
Provided by HighPoint Technologies
IDE Raid is becoming more and more popular as a user-end solution for those who demand better hard disk performance or better data security at a low cost. RAID stands for Redundant Array of Inexpensive Disks, coined from a paper written in 1987 at the University of California Berkeley. The author suggested the use of smaller, inexpensive disks to replace single, larger disks to implement "fault-tolerant data redundancy." Up to five standards were originally defined, and the two of these which are actually used today are RAID 1 and RAID 5. Later, RAID 0 was defined. RAID 0 (also known as "striping"), which can be seen graphically in Figure 1, combines two or more disks in order to improve performance. RAID 0 is technically not actually RAID because there is no data redundancy. RAID 1 (also known as "mirroring;" Figure 2), writes the same data to two different disks simultaneously, and the data can be read from either disk. There is no writing performance benefit from RAID 1, and a theoretically doubled reading speed, but the data redundancy provides for security in case of disk failure. RAID 5 (Figure 3) writes striped data with parity over several disks. While not as fast as RAID 0, the parity provides for the failure of any disk on the array without losing data. RAID 5 is normally used on high-end servers, and its price is too much for its benefits on lower end machines. The lower cost alternative is the combined standard of RAID 0+1, which needs at least four drives. RAID 0+1 has essentially two RAID 1 arrays which are combined in a RAID 0 array and allows for data striping as well as redundancy. The RocketRAID 404, which is the subject of this review, supports RAID 0, 1, 0+1, and has some cool and interesting other features.


Figure 1


Figure 2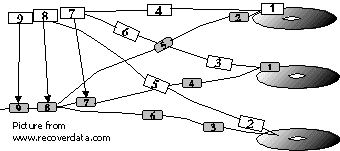 Figure 3