Albatron PC6600U Video Card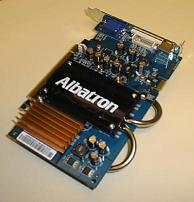 Introduction:
Our friends at Albatron sent TWL a pretty cool videocard to review and without hesitation we put it to work. The card is the GeForce 6600U (PC6600U) with 128MB DDR on the card. Since the card is a PCI Express version, we installed it on our new Albatron 915P4/G4 Pro motherboards. The card is designed to fall somewhere between the standard 6600 card and the GT model. The performance and options with overclocking the card gave features worth taking note. The card was everything we expected and a few cool features too.
Specs:
Albatron's PC6600U System Requirement
1. PCI express 16X port
2. CD or DVD ROM for software installation
3. 32MB system RAM minimum
4. 30MB free hard disk space minimum
5. Operation system - Windows XP, Windows 2000
NOTE:Nvidia did not support Win9x,Winme,WinNT driver for Geforce 6 series

Albatron's PC6600U Features
1. Powered by nVIDIA GeForce 6600 GPU
2. PCI 16X with PCI express Texturing and Fast Writes
3. CineFX 3.0 Engine supports DirectX9.0 & OpenGL1.5
4. NVIDIA Intellisample High-resolution Compression Technology
5. NVIDIA UltraShadow II Technology
6. RAMDACs 400MHz
7. D-Sub, TV-out and DVI Ports
8. Supports nView Technology
With the features of 16X port speed and DVI ports or for those of us who use their TV's as one very large screen the 6600 comes with TV-Out. Of course the TV-out doesn't come with a single S-video, or RCA, but with both and component (Y, Pb, Pr) for an even sharper image. Drooling yet?