Xabre 600 Pro by PowerColor
Review by James on 04.30.2003
Introduction:
As the spotlight focuses on the battle raging between Nvidia and ATI for the top slot in the high-end video card competition, the release of middle-of-the-road, affordable cards, that don't occupy an AGP slot, and render the neighboring PCI slot useless, often slip by unnoticed. I'm here to help prevent just that; hopefully, I'm not too late. The Xabre 600 was announced in 4Q 2002 by SiS, a quarter late, but still helping to lead the drive of the GPU market to a 0.13u process. While a laundry list of marketing names for new, but not uncommon, technologies accompany this card, based on their presentation, SiS seems to emphasize three: the Duo300, Vertexlizer Engine, and Xmart Technology.
SiS would like to believe their card is on the line between the enthusiast, extreme performance market and the mainstream, quality performance markets. This may be true, but it is disappointing. When SiS first started with the Xabre 600, it was supposed to be their move into the enthusiast market, but then it was also supposed to be released in 3Q 2002. Arriving a quarter late and performance points short, even SiS talks of the card as being nothing more than a high end, mainstream card. However, the Xabre II to be released by last month (sic) will be DirectX 9 compatible.
The card comes with several nice additions, namely a DVI-to-VGA (male-female) adaptor, 6' RCA video cable(male-male), and S-Video-to-RCA Video (male-female) converter cable. In addition to hardware, 3 CD's came in the box: a demo of Rune, Intervideo WinDVD, and of course the driver disk. I personally can't stand WinDVD, but it is nice to have an application that will play DVD's in case you haven't discovered PowerDVD or VideoLAN.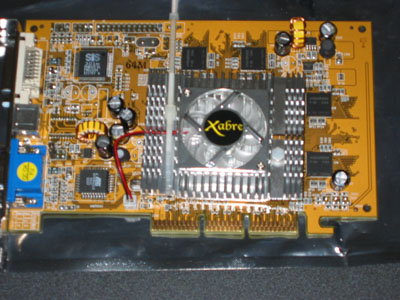 Yes, that IS a plastic pull-tie holding the HSF on to the card, but do not fret. This is not standard, the card was roughed up in shipping and the HSF's holding mechanism was damaged. It came like this:

And the back of the card, before the addition of the pull-tie.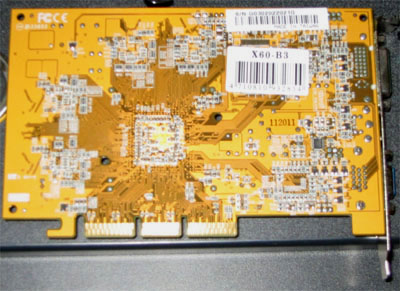 The box and all that came with it.