External Hard Drives: How To Carry Your Life With You (And Why You'd Want To)

Author:
William Halbyrd
Date:
2008.07.16
Topic:
Editorials
Provider:
Seagate
Manufacturer:
Seagate
External Hard Drives:
How To Carry Your Life With You (And Why You'd Want To)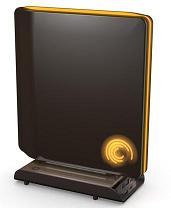 File Transfer
The other major use of an external hard drive is to transfer large files and directories between computers. Network file transfers work fine if you have everything set up to accommodate them, but getting network sharing permissions set up correctly is difficult enough in a static network environment. In an ad-hoc environment, like an informal meeting or LAN party, the hassle, headache, and downtime just aren't worth it. With an external hard drive, transferring that multi-gigabyte file to a friend is a simple three step process:
Plug in and copy the file to the external drive
Dismount the external drive and hand to your friend
Plug into the destination computer and copy over
No mess, no hassle, no headache.
In addition to this ad-hoc "sneakernet", many modern home gateway routers include USB ports for attaching external hard drives. Thus attached, the external drive becomes a Network-attached storage device, accessible to anyone on the network with minimal configuration. This lets multiple users access a common store of files without the need to have a purpose-dedicated computer running 24/7, and can additionally work with any number of network-aware set-top devices, such as the Apple TV.
Backup and File Copy Utilities
Having an external drive is only one part of your file and backup solution. The software that facilitates copying and backup is the other part. There different software programs that alleivate the need for you to manually copy and backup your files. Software such as Syntoys keeps track of version and date and can be set to automatically backup specific files and folders on a periodic basis.
We suggest the following tools for your copy and backup needs:
REAL TIME PRICING