AMD Phenom and Spider Preview
AMD Phenom Preview

AMD PHENOM PROCESSOR TECHNICAL SPECIFICATIONS:
Model / Processor Frequency:
Model / Processor Frequency:
L1 Cache Sizes:
L2 Cache Sizes:
L3 Cache Size:
Memory Controller Type:
Memory Controller Frequency:
Types of Memory:
HyperTransport 3.0:
Total Processor Bandwidth:
Packaging:
Fab location:
Process Technology:
Approximate Transistor count:
Approximate Die Size:
Nominal Voltage:
Max Ambient Case Temp:
Max TDP:
ACP:


Model 9600 / 2.3GHz
Model 9500 / 2.2GHz
64K of L1 instruction and 64K of L1 data cache per core (512KB total L1 per processor)
512KB of L2 data cache per core (2MB total L2 per processor)
2MB
Integrated 128-bit, capable of being configured for dual 64-bit
Up to 1.8GHz with Dual Dynamic Power Management
Support for unregistered DIMMs up to PC2 8500 (DDR2-1066MHz)
One 16-bit/16-bit link @ up to 3600MHz full duplex
Up to 31.5 GB/s bandwidth
Socket AM2+ 940-pin organic micro pin grid array (backward compatible with Socket AM2)
AMD's Fab 36 Dresden, Germany
65nm (.065-micron) Silicon on Insulator (SOI)
approx. 450 million (65nm)
285 mm2 (65nm)
1.1-1.25 Volts
70 Celsius
95 Watts

*Future Memory Controller Note: Future 45nm processors versions are planned to include support for DDR3 memory
At 2.2 and 2.3 GHz AMD is definitely not upping the speed in terms of clock rate, which will make all comparisons to the current X2 and Core 2 Quad processors interesting to see on a clock for clock basis. AMD has opted to use the same strategy it went with for the Barcelona which is to refine the way the processors work instead of just bumping the speed. Intel on the other hand has adopted a smaller, faster, better philosophy which may end up working for them as they may end up holding the speed and performance titles. Our experience is that the majority of consumers do not purchase the high end and instead opt for a balance between price and performance and usually end up on the mid to low end of the CPU scale. In this category AMD may just hold bragging rights as their processors may outperform the Intel in both performance and price. Intel may have to mobilize that marketing beast to convince consumers that speed is all that matters, but will they cut price?
AMD PHENOM PROCESSOR PRICING:
AMD Phenom TM processor model 9600 $283/ea.
AMD Phenom TM processor model 9500 $251/ea.


AMD PHENOMT PROCESSOR OPN NUMBERS:
AMD PhenomT Processor Model 9600: Tray: HD9600WCJ4BGD / PIB: HD9600GDBOX
AMD PhenomT Processor Model 9500: Tray: HD9500WCJ4BGD / PIB: HD9500GDBOX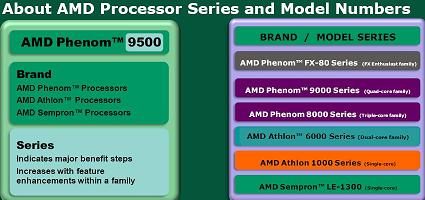 AMD has implemented some unique features in the new Phenom which include:
Fully independent frequency control per processor core can reduce processor energy consumption by adjusting power usage according to core utilization.
AMD CoolCore dynamically activates and deactivates parts of the processor to assist in energy efficiency and cooling.
Multiple thermal sensors in the chip to automatically reduce speed and thus heat when predefined thermal limits are reached.


Of course AMD has an entire plan and lineup of chipsets for the new phenom.