Corsair HX620W Power Supply
Corsair HX620W Power Supply


Introduction

With the plethora of power supplies on the market, it can be difficult to determine which one to go with, especially with the great importance of getting one that is stable. Unlike with other components, simply being a new product doesn't necessarily mean the power supply is better than those made previously. Hopefully your search will become much easier after I've sampled the

HX620W

from

Corsair

. It promises to be extremely quiet and most important of all, stable and efficient. With 620 Watts, the HX620 should prove to have more than enough power for the average user.


Packaging
(click to enlarge)


The box is designed to sell, and brags about the product's various acclaims. Opening the box reveals the power supply protected by a foam enclosure, with the cables tightly compacted in the remaining space.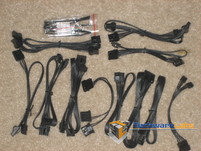 In the above image are the various cables for the product. As you can plainly tell, the Corsair HX power supplies are modular, meaning you won't have a bunch of useless cables taking up space in your case. Only connect the ones you need and store the others in your closet.
REALTIME PRICING