CoolMax RM-750 Aluminum Power Supply
CoolMax RM-750 Aluminum Power Supply

Installation
Installation was very standard. Just mount it into place, screw it in (no thumb screws) and plug it into your board. The PSU is also small enough to not interfere with any drives you might have in your case.
Testing
Test Rig :
Windows Vista Ultimate x64 -SP1
Samsung DVD-R/RW
Test results are definitely positive. The RM-750 was almost dead on with the 12v rails (12.03 average) and had less than a +/-1% deviation in the 5v rails. ATX standards allow for a +/-5% deviation in voltages which puts the RM-750 well within the standards. While monitoring the voltages, I found very little swagger in results. In fact, the 5v rail barely moved, even under stress. A stable power supply will be easier on your components and will probably last longer. For some reason, our BIOS did not show the 5V value.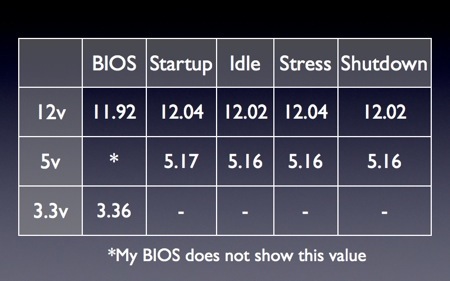 Conclusion
Overall, the CoolMax RM-750 tested excellently. The design was stylish and the performance was near perfect. The RM-750 retails for $99, but can be found for about $89, and for that price, it would definitely be worth the money. While I've found the RM-750 to be overall fantastic, I did find it to be noticeably louder than my previous PSU. It is not loud enough to hinder a conversation or gameplay by any means, however, you can clearly hear the difference between on and off (taking into consideration the noise of the other components. If a little bit of noise doesn't bother you, then by all means consider the CoolMax RM-750; it's definitely worth it, and for the price, almost cant be beat.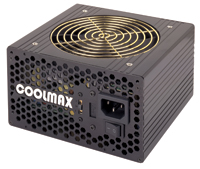 REALTIME PRICING