FSP Group Everest 80PLUS 700 Watt PSU
FSP Group Everest 80PLUS 700 Watt PSU

Introduction
FSP Group has recently sent TechwareLabs one of their high-end power supplies, the Everest 80 Plus 700. FSP Group is a company that makes power supplies (and only power supplies) for various purposes. They're also the manufacturer of power supplies for various companies such as Antec, OCZ, and Zalman. FSP Group is also the leading manufacturer of 80%+ power supplies. I'll explain 80 Plus later.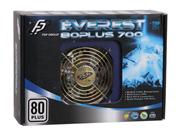 The Everest 80 Plus 700 is a modular power supply that would be a great addition to a new rig. Here's why.
A Closer Look
The Everest 80 Plus 700 comes with all the necessary modular cables as well as installation instructions and some velcro to tie up the cables. All of the cables have a mesh coating for easy management. This power supply also features a tool-less design including thumbscrews instead of regular ones. The Everest 80 Plus 700 also comes with something rather different: coasters. In the box among the packaging are two coasters that you can rip out and use to prevent those annoying rings on your wood desk. It's cereal box toys all over again. The power supply also looks cool and has a blue LED like every other piece of computer equipment nowadays.
REALTIME PRICING