Lian Li Maxima Force Extreme Power Supply PS-A750GB 750W

Author:
Chris Swertfeger
Date:
2008.10.03
Topic:
PowerSupply
Provider:
Lian Li
Manufacturer:
Lian Li
Lian Li Maxima Force Extreme Power Supply PS-A750GB 750W
Introduction:
Power supplies are a dime a dozen in near every wattage. So how do you know you're getting the best one you can for your money? Aside from ritualistically reading Techware Labs everyday, you have to look at a few deciding factors: price, quality of materials, wattage, voltage stability and certifications. Lian Li, a company best known for their enthusiast market cases tries their hand at the enthusiast power supply market. What can Lian Li bring that will make them stand out from all the other power supplies. Do they have what it takes? Read on to find out.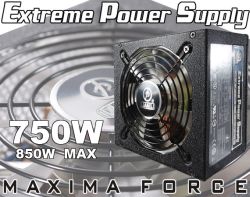 Lian Li's Take:
The ever increasing demand of gamers for high-end products and outstanding performance has initiated Lian Li to announce a new series of Power Supply Units (PSU) called the "MAXIMA Force". Building from Lian Li's reputation as an enthusiast brand catering to the ultimate tastes, the product features a 120mm ball-bearing fan, and Japanese Main Capacitors to ensure that the quality and standards, as well as durability of Lian Li products is as outstanding as our customers expect.
With clean and stable power driving your PC via the MAXIMA Force PSU and the multi 12V rails output and bead core protection for the PCI-e connectors, failsafe safety protections, and 80 Plus output all combine to give the MAXIMA Force PSU superior durability than anything else you are likely to get. MAXIMA Force PSU's have today what PC gamer's need tomorrow!
- Lian Li
Features and Specifications:
MAXIMA Force complies with the newest Intel standard ATX 12V V2.3 & EPS 12V

Environment friendly design for energy saving by Active PFC (>.9) / High efficiency (>80%)

Special fine-toothed heatsink for maximum surface area and improved heat dissipation.

Japanese Capacitors in the main circuits to improve durability and consistency for clean voltage regulation.

120mm

Ball Bearing Fan with smart fan control to ensure best silent performance

Honeycombed vent for maximum air-flow and ventilation

Multi- 12V rail design.

Support over-clocked CPU ,GPU, and RAM System hardware, best stability power output.

PCI-E connector with bead core protection to minimized EMI for clean output

Sleeved cable for best air flow performance

LED Fan Light Switch

Specifications:

Model

 PS-A750GB

Type

 ATX PS/2 & EPS

Input Voltage

 100-240Vac

Input Current

 115V /10A – 230V/6A

Input Frequency Range

 115V/50Hz – 230V/60Hz

PFC (Power Factor Correction)

 ACTIVE PFC (>.99)

Power Good Signal

 100~500 ms

Hold Up Time

 >17ms

Efficiency

 >81% (85% max)

Output Capacity

 750W

Max Output Capacity

 850W

Operation Temperature

 0-40℃

MTBF

 >100,000 hours

Protection

 OVP / UVP/ OTP / OCP/ OLP/ OPP/ SCP

Safety

 Nemko / TUV /cUL/ CE / BSMI / FCC

Fan

 120 Ball-bearing Fan (max 2500RPM)
Connectors

24 Pin Main Connector x 1

8 Pin 12V x 1