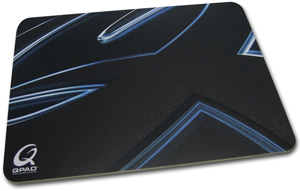 Introduction:
Today's hottest games - Call of Duty 4, Crysis, Half Life 2...they all have one thing in common. They demand a great deal from the computer they're played on, but few people think about the first connections between the user and the game - the mouse and the mousepad. While the SilverStone Raven Gaming Mouse may seem to put you at the top of your game, it means nothing without the proper mousepad surface. QPAD, a manufacturer of performance game pads, releases to us the CT Gaming Mousepad. The CT comes in two colors - black and white. It is also available in two other editions - the KODE5 and GRIN. The pad is the same for all four, but have different prints on the front.
QPAD's Take:
"For all users with high demands on precision, feel and functionality this is the mouse pad that delivers. CT™ series smooth Hybratek™ coating ensures that the mouse registers every detail of the smallest mouse movement. It offers a smooth and a controlled glide with an optimum level of friction. Whether you are a hardcore gamer or work with other demanding tasks such as graphic design or large spreadsheets, you'll thrill to the task."
Specifications:
Size: Small [28.5x20cm [11.23x7.87 inch]
Thickness: 4 mm
Color: Black
Surface: Hybratek™ Coated soft top
Other: Including Glidz
Art.Nr. 3807
EAN: 7350020290589
Let's take a closer look!