Creative X-FI XtremeGamer FATAL1TY series
CREATIVE (TM) X-FI XtremeGamer
FATAL1TY PRO SERIES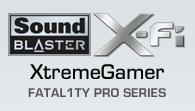 Introduction
"Sound performance," catch phrase or statement? TWL was able to get their hands on the Sound Blaster FataL1Ty signature edition X-Fi Xtreme Gamer sound card and were absolutely amazed! This is one peripheral that every serious gamer "must have!" The cost may be a little more than your average sound card, and you may even think that your on-board audio sounds good, great! However, for those gamers out there who are serious about getting every last bit of performance from their rig, chances are they have some pocket change to spare.
| | |
| --- | --- |
| | |
This release of the Sound Blaster sound card is the top of the line card for Creative. The signature of Johnathan "FATAL1TY" Wendel stamps the box, showing his approval of this release of the Sound Blaster. All of the jargon aside, you may ask "why is this card so special?" How about something called "offloading" for starters? This gives your processor a break from processing the audio signals of your games resulting in roughly 10~15% gain boost in gaming performance. Then follow this with the 24-bit Crystalizer technology which is simply worth the money alone for those of you who enjoy listening to MP3s.
Technical Specifications
7.1 speaker output
24-bit Digital-to-Analog conversion of stereo digital sources at 192kHz to stereo output
16-bit to 24-bit recording sampling rates: 8, 11.025, 16, 22.05, 24, 32, 44.1, 48 and 96kHz
ASIO 2.0 support at 16-bit/44.1kHz, 16-bit/48kHz, 24-bit/44.1kHz 24-bit/48kHz and 24-bit/96kHz with direct monitoring
Enhanced SoundFont support at up to 24-bit resolution
64MB of X-RAM
Audio Performance (Rated Output @ 2Vrms, Typical Value)
Signal-to-Noise Ratio (20kHz Low-pass filter, A-Weighted)
- Stereo Output 109dB
- Front and Rear Channels 109dB
- Center, Subwoofer and Side Channels 109dB
Total Harmonic Distortion + Noise at 1kHz (20kHz Low-pass filter) = 0.004%
Frequency Response (-3dB, 24-bit/96kHz input ) 10Hz to 46kHz
Frequency Response (-3dB, 24-bit/192kHz input) 10Hz to 88kHz (Stereo only)
Connectivity
Speaker and Headphone connections for stereo to 7.1 (Line Out via three 3.5mm mini jacks)
Line In / Microphone In / Digital Out* / Digital I/O** (shared 3.5mm FlexiJack)
Auxiliary Line level Input (via 4-pin Molex connector)
I/O Console connector (for optional upgrade)
* Digital Out supports stereo SPDIF out and pass through of multichannel DVD sound
** Digital I/O requires Sound Blaster Digital I/O Module (Sold Separately)
Product Warranty:
Creative offers a twelve (12) month(s) limited hardware warranty.
Real Time Pricing: