Saitek Cyborg Gaming Headset

Author:
Justin Washick
Date:
2008.04.07
Topic:
Audio
Provider:
Saitek
Manufacturer:
Saitek
Saitek Cyborg 5.1 Headset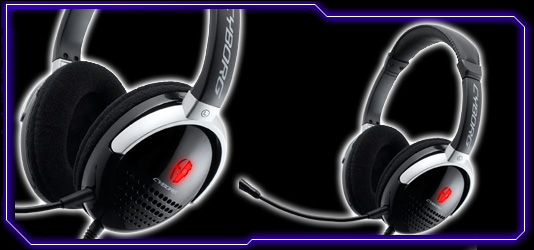 Introduction
Have you been playing your PC game with your surround sound setup, and just as you're really getting into it, your parents/neighbor bangs on your door... "Turn that racket down! We're trying to sleep!" Such is the cruel fate to the late-night gamer. You really ought to consider the Saitek Cyborg 5.1 Headset, which delivers 5.1 surround sound and won't disturb the neighbors.
What's in the box?
(click to enlarge)
As I open up the package, I begin to see all that is included.
(click to enlarge)
But wait... What's this? An included carrying case?
(click to enlarge)
By sliding the bottom of the case into the zipper, I now have a handy carrying case for my new headset. It now becomes very easy to take with me to, say, a LAN party.
(click to enlarge)
From the Product Page
Cyborg 5.1 Headset
True 5.1 Surround sound using integrated USB sound card with in-line volume/mute controls
Low profile, rotating cans and adjustable headband for total comfort and portability
Detachable noise-cancelling boom microphone
6 sonic drivers deliver precise directional audio
Unique styling - 'Cyborg' logo illuminates when 5.1 sound is selected
3.5mm jack included for use with MP3/CD/Handheld devices (in stereo)
VoIP ready
System Requirement:
Connectivity: USB 2.0 Windows XP, XP64 and Windows Vista (all versions)