Altec Lansing SoundBar FX3020

Introduction:
Are you tired of having to shift speakers around on your desk for more room? Does the area under your monitor just plain bother you? Well, the folks at Altec Lansing have invented a fun new speaker system that will solve both of those problems. We introduce to you, the SoundBar. With its brilliant 2+1 sound, it'll have your earlobes tingling.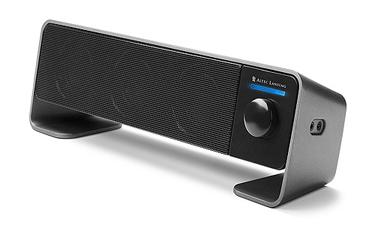 Altec Lansing's Take:
"Immersive sound" is an audio advance that changes the listening experience. Music no longer seems to come through a speaker, but from an expanded soundstage. Altec Lansing's proprietary ESS signal-processing immersion technology audibly widens the stereo image to a startling degree. Tuck it under your flat-screen monitor for a new audio experience — and enjoy a refreshingly open desktop, improved wire management and simplified speaker connections to your PC and iPod® or CD player.
Features:
Immersive, Crystal-clear Sound
Powerful 2+1 system maximizes performance and clarity with two 2" precision-engineered speakers and a large bass pressure driver.


Expanded Sound Stage
Full-range angled speakers and Altec Lansing's Expanded Sound Stage technology combine to widen the audio image.


Powerful bass
XdB technology brings out the bass without a subwoofer.


Creative use of space
Tucks under your flat-screen monitor.


Reduced clutter
Connections are simplified. Elegant wire-management gives you more room on your desktop.


Convenient Controls
Volume and mute controls are at your fingertips.


Auxiliary Input
Connects other audio devices, including older iPod models, iPod shuffle, other MP3 players, or laptops (cable included).


Headphone Jack
For private listening.
REALTIME WEB PRICING ON THE ALTEC LANSING FX3020