Author:
Kyle Huneycutt
Date:
2008.10.05
Topic:
Audio
Provider:
ZOOM
Manufacturer:
ZOOM
Zoom H2 Handy Recorder
Zoom's Take
Full product information page is available at Zoom's website.
The H2 begins with a simple idea: provide brilliant stereo recording in an easy-to-use, ultra-portable device. Now everyone can record pristine audio in an infinite variety of applications. From seminars and conferences, to electronic news gathering(ENG), interviews and podcasting, to musical performances, songwriting sessions and rehearsals, the H2 provides amazing recording quality. And no matter what kind of recording you want to make, the H2 can effortlessly record it.
Recording an exceptionally realistic stereo image can be a challenge with a conventional mic pair. The H2 has dual X/Y configured stereo mics facing front and rear. This is ideal for capturing a wide and contiguous stereo image. There are two sets of mics - one pair facing the front and one pair facing the rear - allowing you to record at 90° from the front or 120° from the rear. You can even use both two pairs to produce a four-channel recording with 360° coverage. After recording, the built-in 3D panning function gives you full control over the front/rear/left/right balance. Or use commonly available authoring software to create 5.1 surround recordings. No other portable digital recorder has this ability.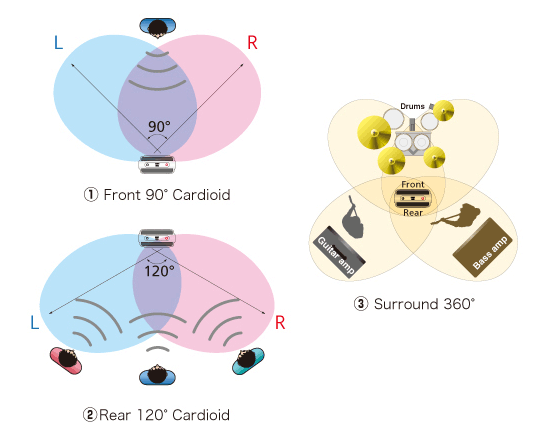 REALTIME PRICING