Antec Three Hundred Computer Case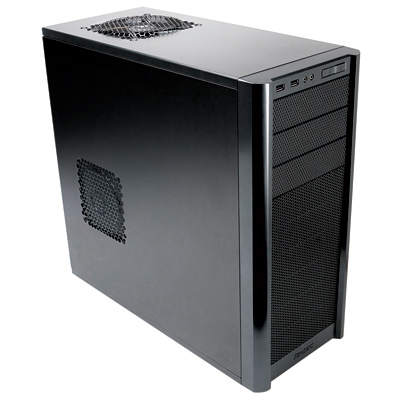 Introduction
"Impressively spacious and unbeatably reliable, the Antec Three Hundred is an unbeatable enclosure. The Three Hundred has enough room for an NVIDIA 8800 series graphics card, as well as six hard drives and a standardATX motherboard. A cable management compartment keeps your system organized and the airflow unobstructed. A 120mm rear fan and 140mm top fan ensure that the case runs cool even when playing the most demanding games, while the sleek black finish gives it an extra stylish edge." - Antec.com
The legacy of the Antec Nine Hundred case is a tough thing to best: It was one of the most awarded cases ever produced by anyone, ever. As good as the Nine Hundred case was, its successors have a lot to bring to the table. Today, we are reviewing the little brother of the Nine Hundred, the Antec Three Hundred. Let's see how the Three Hundred lives up to its big brothers legacy!
Product Specifications
No Power Supply included: To optimize
performance of your Three Hundred, your choice of
power supply is crucial. Antec strongly
recommends choosing from our NeoPower or
TruePower series.
9 Drive Bays:

External 3 x 5.25"
Internal 6 x 3.5" for HDD

Cooling System:

1 rear 120 x 25 mm TriCool™ Fan with 3-speed switch control.
1 top special 140 x 25 mm TriCool™ Fan with 3-speed switch control
2 front (optional) 120 mm fans to cool the hard drives
1 side (Optional) 120 x 25 mm Fan to cool graphic cards

Washable air filters reduces dust build up in your system, which helps keep your system cooler
Perforated front bezel for maximum air intake
7 expansion slots
Top mounted I/O ports for easy access
2 x USB 2.0
HDA & AC'97 Audio In and Out
Dimensions:

18" (H) x 18.3" (D) x 8.1" (W)
45.8 (H) x 46.5 (D) x 20.5 cm (W)

Net Weight: 15.9lbs / 7.2kg
Gross Weight: 18.7lbs / 8.5kg
Lets look at those specifications in a little more detail... This case has two built in fans, a 140mm three speed fan that is mounted in the top of the case to provide vertical cooling for the processor, and a rear fan that provides additional airflow for the video card, chipset, and the processor. Each of these fans is equipped with a three speed adjustment which allows the user to tradeoff between cooling and noise. Keeping with the idea of "keeping it cool", the front bezel of the case is perforated which as the specifications mention, allows enhanced airflow into the case. With the ability to mount two additional fans in the front of the case, as well as an additional fan directly over the video card on the case door, Antec has provided a lot of flexibility when it comes to air cooling solutions with this case!
If you take a look at the physical properties, this case is around the same size and weight as your typical mid-tower. Weight is important when it comes to lan parties; every ounce you can cut out of your rig counts when you have to lug your rig up three or four flights of stairs (actually, its even harder when you've been gaming for 24 hours straight and are a little tipsy from your you-dont-remembereth corona not that you should be drinking and driving anyway). Anyway, the sleek black paint on the outside matches the front plastic to a tee. The polish seems somewhat resistant to dust and in any case makes it easy to remove any dust that may build up on the exterior of your case. With all of that out of the way, lets take a look at what you get for your money!~
REALTIME PRICING