Kingwin KWI-450 Power Supply
Review by David R. Hedges on 04.04.2003
Product provided by: Kingwin
Price: $68 (Newegg.com)
Physical Features
To be blatantly honest, this is a fairly attractive unit, as far as power supplies go. Gold fan grills, translucent fan blades, and a black mesh encasing the ATX motherboard power lead all add to the attractive and professional appearance of the KWI-450W. The black mesh is a particularily nice addition from Kingwin. While some users could care less whether the inside of their cases looked like something out of horror film, others (particularily those with windowed cases) prefer a clean, organized case. Regardless, this welcome feature is nothing but helpful.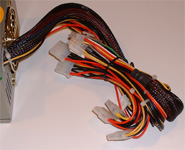 The fans themselves are constructed from translucent plastic, and are shielded by gold-colored fan grates. Like the black mesh surrounding the atx power lead, these choices from Kingwin add to the visual appeal of the unit as a whole.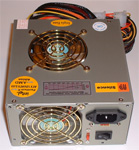 In addition to motherboard connections for standard ATX and Pentium4 motherboards, the KWI-450 has three runs of molex power connectors. Two of these are 30" in length each. They have three molex connectors, as well as one floppy drive power connector extending an additional 6" at the end. The third run of molex connectors is 36", and has four molex connectors and no floppy drive power connectors. This should be sufficient for almost any setup concievable, as it features a total of 10 standard molex connections. Techware Labs tested this in the largest case available, which was a 3dcool.com Tornado 3000, which measures 8" x 25.5" x 17". This will be explained in more detail later, but 8 of the available 10 molex power connectors were used when the case was filled to capacity. Taking into consideration that this setup is more demanding that most systems, and still didn't use all of the available molex connectors, it's safe to say this unit will have sufficient molex capacity for nearly all current systems.