StarTech 480 Watt Silent Power Supply
Review by Jason Jacobs on 3/30/04
Power Supply Provided by Star Tech
Introduction:
The quality of the power being supplied to the components in your system is more important than most users realize. A poor quality power supply can cause many problems and in some cases can even destroy system hardware. A PSU (Power Supply Unit) which undervolts either the 3.3, 5, or 12 volt lines can cause corruption of data, system locks, and program crashes. In more severe cases an overvolt can fry components.
Techware Labs recently had the StarTech 480 Watt Silent PSU in the lab to see if it meets the increasing demands for power that current systems require. This is one of StarTech's specialized models that boasts silence in addition to high output. Increasing the output of a PSU usually results in an elevated heat output in addition. As most computer enthusiasts already know, heat is the enemy. The Star Tech PSU has taken a "bigger is better" approach that many system and PSU providers are begining to select, and has opted for a 120mm fan in place of the standard 80mm one. We will see later if this helps or hinders this PSU.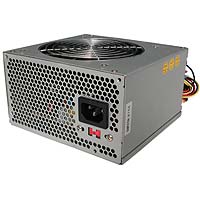 Lets take a closer look.
Shopping Matches for StarTech 480 Watt Silent Power Supply: