Review by Matthew Homan on 7/30/04
Reviewed system provided by Sundial Micro

The glossy finish allows the gill-shaped vents to be practically invisible at first glance. The high gloss black finish made taking the photos a challenge. This would be the first time I had to use Windex to make a computer case gleam. Needless to say the case makes an awesome impression at first glance. Between the brushed aluminum front panel and the automotive gloss black finish, it's a toss-up on what to inspect first.
The front door, which hides the 4 exposed 5.25" drives and the two 3.5" drive bays, has an art deco look highly reminiscent of the Coolermaster Wave case. After opening the door, you notice that the door itself is a nice thick piece of aluminum that won't simply break off after some light abuse.
The next detail is the panel of USB and sound ports on the front right side. This location allows easy access to these ports without having to bend like a pretzel to get to the back of the case. The SilverStone name and logo are located above the power and reset switches, which are designed like a MagLite flashlight button (designed to last).
The lock located on the left side of the faceplate seems misplaced at first. After unlocking it with the provided keys, the faceplate opens like a well structured door to reveal the easy access tool-less drive bays and 120mm fan filter. The front door panel was wholly impressive, from the thick construction and hinge mechanism to the lock and entire bay hinge.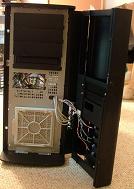 The left side panel is easily removed by unscrewing two thumb screws, flipping slide locks on either side of the handle indentation upward, and sliding the panel back. The right side is removed simply by unscrewing three standard thumbscrews.