LapLogic G800 (W800) Aerogel Extreme LapDesk
LapLogic G800 (W800) Aerogel Extreme LapDesk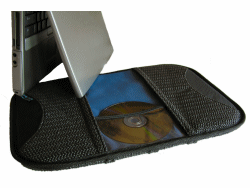 Introduction:
If you're like me and so many others out there, you've become used to multitasking, so you sit on the couch and watch television while fiddling on the laptop, and it lays on your lap. Beware! The laptop becomes so hot that it burns your skin. It's as hot as a frying pan! It's burning holes in your jeans! You can't touch it with your bare hands, it's so hot! Never fear, for LapLogic produces a LapDesk to go between the laptop and your legs made from Aerogel material, which, according to the company web site, holds the Guinness world record for being the best thermal insulation material known to man. Their G800 (or W800) will protect your soft, supple skin from the evil laptop of death.
Joking aside, for those whose laptops go for periods of time where an application is highly resource-intensive and a cooler would be inconvenient or otherwise a hassle, this product may just be the answer you've been looking for.
Observation:
At first sight, there is no fancy box/packaging for this product, not that I particularly care. However, there is no way this product would sell itself on a store shelf. The LapDesk comes in a plastic bag with a thin cardboard tag on it, as if it were a piece of clothing. Again, a big fancy box isn't necessary, but I'd expect the packaging to be an attempt to at least generate a little bit of hype.
(click to enlarge)
| | |
| --- | --- |
| | |
| Packaging (Front) | Packaging (Back) |
| | |
| --- | --- |
| | |
| LapDesk (Front) | LapDesk (Back) |
Upon removing the plastic wrapping, which is really just a clear bag, I look at the product close up to see if anything stands out. Upon close inspection and referencing the list of features on the product web site, it's obvious LapLogic put a lot of thought into this product. We observe the following:
Firstly, the side the laptop rests on has three extruded stripes which are wide enough to hold the laptop in place via friction, yet thin enough not to obstruct the fans, thus allowing a possibility (though there is no guarantee) of the laptop operating at a decreased temperature.
Secondly, there is a little pocket on the underside to put a CD, DVD, or business cards in.
Thirdly, the bulk of the insulation is on the sides where it would actually be in contact with the skin.
Fourthly, it's highly durable and should survive repeated falls.
Something very odd upon close inspection is the side pockets where what I assume is the Aerogel material lies. On the underside, there is a pocket on each side, which use velcro to seal the pocket This velcro is then sewn shut.
From the product page:
Features:
* New The first LapDesk with Aerogel Insulation for ultimate heat protection! Featuring Aspen Aerogel™.
* C²R Thermal Technology™ which blocks all forms of heat transfer - convection, conduction and radiation.
* New Integrated laptop thermal channels keep your CPU running cooler.
* No-Slip surface both sides allows you to use your laptop in almost any postion and any angle.
* New Transparent pocket holds CDs, DVDs, business cards.
* Rigid structure supports your laptop comfortably.
* Metallic accents on front and back.
* Available in Blue/Metallic Blue or Grey/Metallic Gold
Specifications
* Heat Protection: up to 99.9% reduction
* Size: 11"h x 16"w x 1"t
* Weight: 16 oz.
* Guarantee: 30 day money back
* Warranty: 1 year materials and workmanship
REAL TIME PRICING