Corsair 32GB Survivor Flash Drive
Corsair Survivor 32GB Flash Drive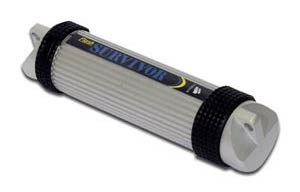 Today's storage solutions keep improving with the use of flash devices and solid state disks. At the forefront of the flash drive expansion is Corsair. Corsair has just released the 32GB Survivor series flash drive. With its ability to hold up in harsh conditions, as well as its large storage options, it's sure to be one of our new favorites.

Corsair's Take:
"Flash Survivor is an extremely durable, water resistant, drop-tested flash USB memory drive. By design it is perfect for transporting valuable data such as personal files, photos and applications without having to worry about damage or loss of data due to the elements."

Features:
A copy of the datasheet for the 32GB Survivor can be found here
• Encased in extremely strong CNC-milled, anodized aircraft-grade
aluminum.
• Water resistant to 200M through the use of a EPDM waterproof seal.
• Protected from vibration or impact damage through the use of a molded
shock dampening collar.
• Plug-&-Play with any USB 2.0 certified peripheral computer port backward
compatible with USB 1.1).
• Includes the True Crypt security application (Windows Vista/XP/2000
compatible only) allowing for a virtual encrypted drive using AES-256
encryption.
• USB extension cable and Dog Tags included.
• Protected by a 10 year Limited Warranty.
Specifications:
OS Supported

Microsoft
Windows Vista, Windows XP, Windows 2000, Windows Me
Mac
9, X and later
Linux
Kernel 2.4.2 or higher

Other Functions Supported

ECC
8-bit Error Correcting Codes, BCH
Wear Leveling
Static wear leveling
USB Bootable
Yes
Activity LED
Yes. Blinking to indicate data transfer activities

Power Requirement

Voltage
5V ± 10%
USB bus powered, no external power required

Power Consumption

Read
Less than 60mA
Write
Less than 125mA
Standby
Less than 1mA

Environment

Operating Temperature
0˚C to 70 0˚C
Storage Temperature
-25˚C to 75 0˚C
Humidity
5% to 95%

Reliability

MTBF
1,000,000 hours

Certification

Emissions
FCC, CE, VCCI
USB-IF logo
Yes
Microsoft WHQL
Yes
Real Time Pricing: