Patriot Xporter XT 4 GB Ruggedized Flash Drive
Patriot Xporter XT 4 GB Ruggedized Flash Drive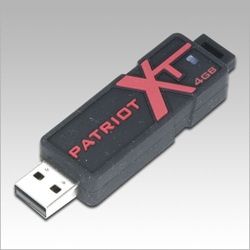 First Impressions and Specifications
My first impression of the Patriot Xporter XT Boost was a little iffy, with a standard plastic case with their logo molded into it... my second impression, a half a beat later, was that this was not in fact cheap plastic, but some seriously thick, shock-absorbing rubber. And then I noticed that the cap sealed the USB plug reasonably well against water - this is probably not waterproof to even a couple feet, but I'd definitely call this splashproof. Based on build quality alone, I think I've found my new favorite pocket-carry drive. The only downside I can think of to this is that the rubberized coating is like a magnet for pocket lint and cruft.
Hi Speed USB 2.0 Compatible (backwards compatible to USB 1.1)

Easy plug and play functionality

Durable shock resistant housing

Driverless in Windows ME/2K/XP/Vista, Mac OS 9.x, OS X, and Linux with USB storage support

Certified for Microsoft Vista Readyboost

Lifetime Warranty
Now, let's look at these claims - for starters, I would be shocked and amazed to find a non-USB 2.0 flash drive for more than fifteen bucks in this day and age, and backwards compatibility is standard, as is plug-and-play - these were the purpose of the universal serial bus, which also leaves me distinctively unimpressed with point the fourth. Number three is actually rather interesting - I passed a boring day in the office bouncing this drive off my desk and the wall and trying to catch it on the rebound... I no longer have any doubts about the durability of this thing. And even if I managed to rough it up a bit too much, the lifetime warranty will take care of that. The other point of note is Readyboost support - nice to know it's there, but Readyboost results in only modest performance improvements if any, and mostly on marginal systems. So unless you have a marginal Vista CapableTM system, your standard boilerplate... save for the warranty and ruggedized housing.
REAL TIME PRICING