Crucial PC2-8500U DDR2 1066Mhz RAM

Introduction:
Crucial "the memory experts" is one the leading computer memory companies in market today. Crucial has sent TWL many memory kits over the past years and have stood behind their product line with steller product support and a very reliable product. Once again, Crucial has sent TWL a memory module kit to review. This kit consists of the DDR2-1066 RAM with two sticks of 2GB PC2-8500U RAM. Lets take a look at how this RAM performs.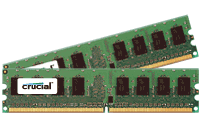 Features:
| | |
| --- | --- |
| Module Size: | 4GB kit (2GBx2) |
| Package: | 240-pin DIMM |
| Feature: | DDR2 PC2-8500 |
| Specs: | DDR2 PC2-8500 • CL=7 • Unbuffered • NON-ECC • DDR2-1066 • 1.8V • 256Meg x 64 • |
Details:
A dual inline memory module (DIMM) consists of a number of memory components (usually black) that are attached to a printed circuit board (usually green). The gold pins on the bottom of the DIMM provide a connection between the module and a socket on a larger printed circuit board. The pins on the front and back of a DIMM are not connected to each other.
240-pin DIMMs are used to provide DDR2 SDRAM memory for desktop computers. DDR2 is a leading-edge generation of memory with an improved architecture that allows it to transmit data very fast.
Each 240-pin DIMM provides a 64-bit data path (72-bit for ECC or registered or Fully Buffered modules). (The Ballistix™ and Ballistix Tracer™ high-performance memory do not come in 72-bit or registered modules.)
Standard DDR2 240-pin DIMMs are available in DDR2 PC2-3200 SDRAM, DDR2 PC2-4200 SDRAM, DDR2 PC2-5300 SDRAM, and PC2-6400 SDRAM.
To use DDR2 memory, your system motherboard must have 240-pin DIMM slots and a DDR2-enabled chipset. A DDR2 SDRAM DIMM will not fit into a standard SDRAM DIMM socket or a DDR DIMM socket.
The number of black components on a 240-pin DIMM can vary, but it always has 120 pins on the front and 120 pins on the back, for a total of 240. 240-pin DIMMs are approximately 5.25 inches long and 1.18 inches high, though the heights can vary. While 240-pin DDR2 DIMMs, 184-pin DDR DIMMs, and 168-pin DIMMs are approximately the same size, 240-pin DIMMs and 184-pin DIMMs have only one notch within the row of pins. The notch in a 240-pin DDR2 DIMM is closer toward the center of the module.
Ballistix and Ballistix Tracer 240-pin DIMMs
Our high-performance Ballistix 240-pin DIMMs come in DDR2 PC2-5300 SDRAM, DDR2 PC2-6400 SDRAM, and DDR2 PC2-8000 SDRAM. The Ballistix Tracer illuminated, activity-indicating high-performance 240-pin DIMM comes in SDRAM, DDR2 PC2-6400 SDRAM, and DDR2 PC2-8000 SDRAM.
There was no accompanying documentation with this RAM kit other than the sleeve which held the cases together. So there really isn't too much to state about the RAM other than what Crucial shows on their web site. Which leaves us to show you the benchmarks of a few different benchmark programs, so lets get go to the lab.
REALTIME PRICING ON CRUCIAL DDR2-1066 RAM