Ford Fusion Side Marker Replacement
I got such a positive response from my older tutorial on the 2001 Ford Expedition Side Mirror Replacement that I decided to do another. I've since traded in the Ford Expedition and picked up a new 2009 Ford Fusion SEL V6. The car is quite dashing (if I may say so myself), but the ONLY lights on the car that aren't white are the side markers.
| | |
| --- | --- |
| | |
| Car Front | Side Marker Close-Up |
The easiest fix for this is to go on Ebay Motors. Under Accessories, we find our Ford Fusion Side Marker Replacement Lenses. The available options (thus far) are Orange, Clear, and Smoke. I opted for clear (because I wanted all of the lights to match. Shipping was fairly prompt (about 4 days), and my lenses cost me about $40 for the pair. They arrived in a box that was well padded, so no scratches were present upon opening the box. Notice the piece just above my thumb. You will need to squeeze this piece to remove the old side marker.
| | |
| --- | --- |
| | |
| Side Marker Front | Side Marker Back |
The only tool you'll need? Believe it or not, a Philips head screwdriver. You will, however, need a short-shaft driver, such as the following: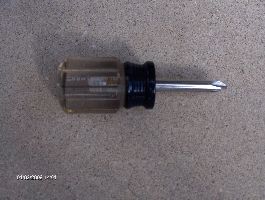 Philips head screwdriver
If you look inside the wheel well behind the side marker, you'll notice a little door. There is a Philips head screw at the top. Remove this, and take the panel off.
| | |
| --- | --- |
| | |
| Panel to remove | Panel removed |
Now that you have clear access behind the side marker, reach inside and pinch that clip I mentioned earlier.the light should start to pull out from the housing. While you're back there, pinch the small clasp that holds the bulb itself in. It's square-shaped, but there is a small latch on the side.
| | |
| --- | --- |
| | |
| Clip to pinch | Bulb release |
The entire housing should remove quite easily, allowing you to simply plug in the new side marker.
| | |
| --- | --- |
| | |
| Two Side Markers | Side Marker Close-Up |
Reverse the process and put the bulb cover flap back on, and you're ready to roll!
| | |
| --- | --- |
| | |
| Car Front | Side Marker Close-Up |
REALTIME PRICING ON FORD FUSION ACCESSORIES