ASUS Striker II Extreme Motherboard
ASUS Striker II Extreme Motherboard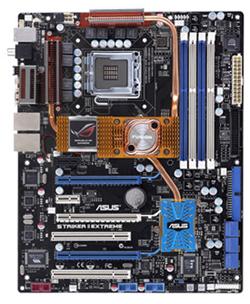 Introduction:
Since 1989, ASUSTek has been forging motherboards that last years and years. Most of the original ASUS motherboards were rather ugly (brown), but focused towards stability and low costs. Personally, my first custom computer contained an ASUS P4B motherboard, and is still running to this day. With gaming computer cases focusing more these days on window panels and lighting, ASUS has dropped their brown boards for a deep black-blue in their new Maximus II, Striker II, and Crosshair II series motherboards. The new Republic of Gamers (ROG), is a division of ASUS dedicated to high performance motherboards.
ASUS has given us the honor of allowing us to test their new Striker II Extreme motherboard, and that's what we'll do!

ROG's Take:
"The Republic of Gamers consists only the best of the best. We offer the best hardware engineering, the fastest performance, the most innovating ideas, and we welcome the best gamers to join in.
In the Republic of Gamers, mercy rules are only for the weak, and bragging rights means everything. We believe in making statements and we excel in competitions. If your character matches our trait, then join the elite club, make your presence felt, in the Republic of Gamers."
Specifications:
- Intel® Quad-core CPU Ready
- Intel® Core™2 Extreme / Core™2 Duo Ready
- Support Intel next generation 45nm Multi-Core CPU
- NVIDIA nForce® 790i Ultra SLI™
- Dual-channel DDR3 2000(O.C.)/1800(O.C.)/1600(O.C)/1333/1066/800 Support
- Fusion Block System
- CPU Level Up
- Memory Level Up
- LCD Poster
- SupremeFX II 8-CH Audio
Real Time Pricing: