Saitek Cyborg Command Unit

Author:
Justin Washick
Date:
2008.04.08
Topic:
Peripherals
Provider:
Saitek
Manufacturer:
Saitek
Saitek Cyborg Command Unit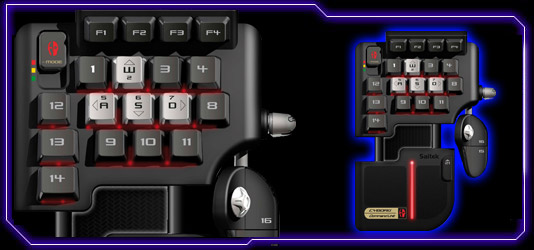 Introduction
What is your opinion of PC gaming on a standard keyboard? If you're like many gamers that go running to a console to have a more ergonomic control system, perhaps you'd like to consider a more ergonomic system for playing games on the PC? I present to you the Cyborg Command Unit from Saitek. This is an inexpensive all-in-one controller, providing you with your standard gaming keys, as well as more programmable keys than you would possibly need.
What's in the box?
(click to enlarge)
I had some difficulty removing the inner packaging without ripping the box, but it may have just been my excitement. It eventually came loose and slid right out.
From the product page
Cyborg Command Unit

Cyborg Command Unit combines the controls essential to First Person Shooter and Strategy games in one unit making them fast and easy to reach in the heat of battle.
Instantly switch between 3 modes for First Person Shooter, Strategy and Role-Playing games
Backlit ergonomic keypad with laser-etched keys for total visibility in any lighting environment
4-way analog hat switch
21 buttons including space, shift function and 3 mode states for up to 144 programmable commands
Adjustable thumb control area with 2 way tilt mechanism, slides forwards and backwards
System Requirement:

Connectivity: USB 2.0 Windows XP, XP64 and Windows Vista (all versions)