Razer "Death Adder" Gaming Mouse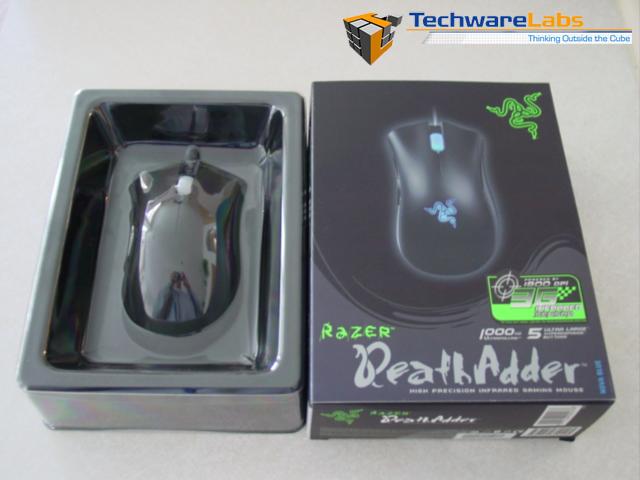 The "Death Adder ", comes packaged in a very cool and popular black box with very colorful images through-out. Opening the box you are greeted by a very nice vacuum-formed container that nicely displays the Death Adder. This can also be seen without opening the container, by merely flipping away the velcro-attached front cover of the main box. Freeing the mouse from the vacuum-formed container, you are greeted with a very beautiful mouse that has a 7 foot cord with a gold plated usb connector for less resistance and better conectivity as compared to the standard nickel plated usb connections that with wear can shows signs of deterioration in their electrical connections to the pc.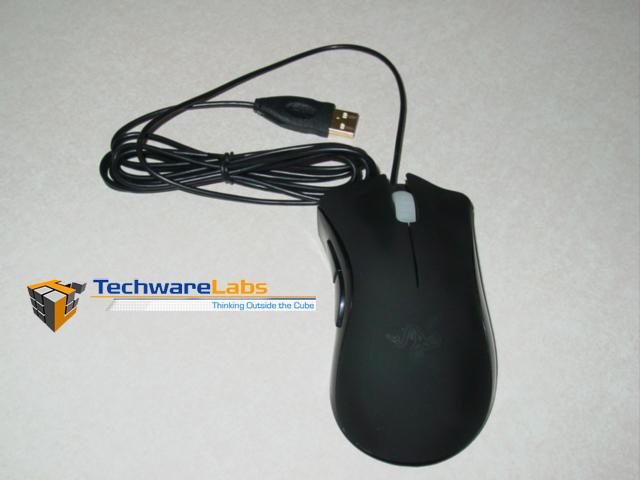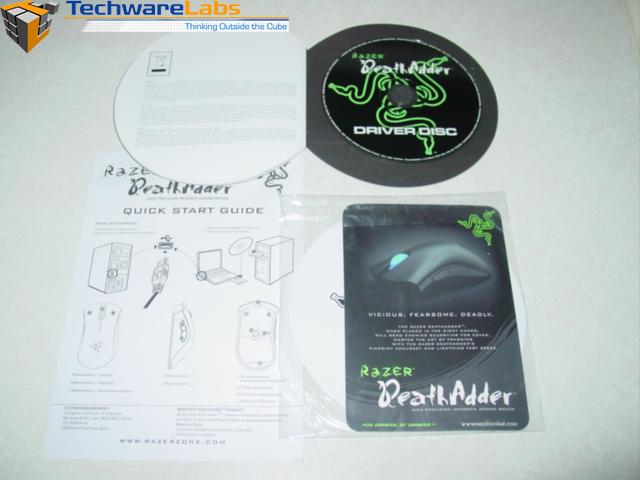 Included with the mouse in the container, is a booklet named the Master Guide for the mouse and the driver CD, a certificate of authenticity and a short, one-page 'Quick Start ' guide. The 'Quick Start' guide is a simple, illustrated sheet providing you with the key points of how to install the mouse quickly and correctly.
Features:
Ergonomic Right Handed Design: The right-handed ergonomic design with rubber coated buttons provide slip-resistant grip and improved comfort during intensive game play.

1800 DPI 3G Infrared Sensor: Powered by Razer Precision, the new 3G infrared sensor on the Razer DeathAdder lets you move 2.25 times faster when compared to a standard 800 dpi optical sensor.

5-Programmable, Ultra-Large, Hyperesponse Buttons: The Razer DeathAdder allows gamers to program their button functions while Razer's Hyperesponse technology reduces latency.

Zero Acoustic Ultraslic Teflon Feet: The Razer DeathAdder glides and slides as you experience the true meaning of smooth gaming.

Award Winning On-The-Fly Sensitivity Drivers: With On-The-Fly Sensitivity drivers, you can switch dpi settings right in the midst of gameplay.

1000HZ Ultrapolling: The fast response time of the Razer DeathAdder means you never have to wait for the mouse – no matter how quick you are.

Always On - Instant Response: Always-On technology capabilities give gamers virtually no latency when the mouse goes back into action from idling.

Extra Long Connecting Cable: A 7-foot high tensile strength light-weight mouse cord with a gold plated USB connector handsomely works to improve the useability of the Death Adder..