Razer "Death Adder" Gaming Mouse
Using the Death Adder:
When you first plug in the Death Adder, the first thing that you notice is the Razer snake logo on the top of the mouse, which slowly fades in and out adding a nice appeal to this mouse. This fade in and out can be controlled from within the software GUI for those that do not want a bright room as they sleep. The scroll wheel also glows, but does not fade in and out.
We then installed the drivers and software from the CD and opened up the Razer Death Adder GUI to get familiar with the settings. For the polling rate we noticed that there are three options, 125Hz (8ms), 500Hz (2ms) or 1000Hz (1ms). Since we obviously wanted to have the best performance, we opted to use the highest setting of 1000Hz (1ms).
We then programmed the buttons to our liking and tested the mouse out using UT2004, Quake3, Quake4, BF2142 and Ghost Recon Advanced Warfighter. The buttons can be assigned to anything that you like, this would include any macros that you can employ.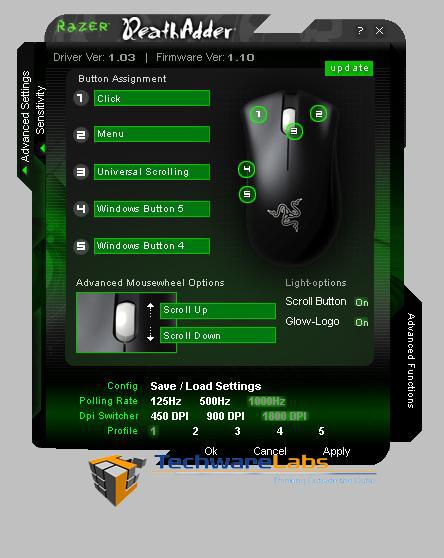 Conclusion:
Right away in WindowsXP we noticed that this new mouse was very smooth, nimble, responsive and comfortable as compared to previous Razer mice we have owned. To surmise our tests, within gaming we immediately noticed that the Death Adder is the best mice this reviewer has had the joy of testing, its high DPI features and adjustability, coupled with the reduced lift-off feature, the infra-red technology that is invisible to the naked eye and feel and comfort have made this our number one pick for a gaming mouse.
If you are as serious about gaming as you are serious about your computer hardware, then the Razer Death Adder is a definate must-have for all serious gamers. Razer have taken laser technology to a new level in mouse design with the Death Adder by using infra-red technology, going away from their ambidextrous style of mouse to the right-handed mouse and a more comfortable style.
We here at TechwareLabs would like to thank the people at Razer for allowing us to put their latest 'snake' to the test. Razer's other gaming mice include:
| | | | | |
| --- | --- | --- | --- | --- |
| Microsoft Habu | Razer Copperhead | Razer Death Adder | Razer Diamondback | Razer Krait |