Author:
Rafael Rios
Date:
2008.04.16
Topic:
Processors
Provider:
AMD
Manufacturer:
AMD
AMD Phenom 9850 X4 Quad Core Processor with B3 Stepping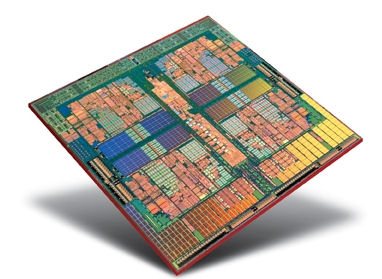 Introduction:
AMD's intial Phenom release back in November of 2007 with the 9x00 series (9600/9700/9800/9900) B2 stepping processors was met with issues when TLB erratum problems surfaced and were plagued by benchmarks during testing and reviewing. While the TLB issue may have been a show stopper for enterprise/business customers if it were to spring up, it was more likely a non-issue for computer gamers and general home users. But AMD's latest processor 9x50 series prove to be just what the doctor ordered, with the new B3 stepping processors that are fixed at the silicon level and no longer have the TLB issue.
AMD has named the new series with what they are calling their '9x50 series' of processors. This makes things very easy for the consumer to identify the new cpu's when purchasing, and identifying the new B3 stepping processors from the initial 9x00 series. The four new AMD Phenom X4 processors that AMD is delivering are the 9550 (2.2GHz), 9650 (2.3GHz), 9750 (2.4GHz) and 9850 (2.5GHz).
The processor we are reviewing today is the AMD Phenom 9850 X4 Quad Core with the new B3 Stepping using the 65nm Silicon on Insulator process technology. This new processor is a 'Black Edition' and has the CPU/FSB multiplier unlocked for easier overclocking, but it has a nominal TDP of 125W making temperature control during overclocking very critical. We have also noticed that the 9850 processor has a faster 2.0GHz memory controller, making it unique versus the other '50 series' processors that retain the slower 1.8GHz memory controller.
Test Setup:
CPU: AMD Phenom X4 9850 Quad Core with B3 stepping (2.50GHz default)
Motherboard: MSI K9A2 Platinum motherboard (MS-7376) Bios v1.4
Ram: OCZ 2Gb single stick of DDR2 ram
Video Card: nVidia 8800 GTX 768 MB
Hard Drive: Samsung HD501LJ SATA300, NCQ, 16MB Cache
Heat Sink: GlacialTech Igloo 5710 Silent Heatsink/Fan
Case: B2 Stealth Bomber ATX Computer Case by In Win
Operating System: Windows Vista Ultimate 32bit with Service Pack 1
Phenom X4 9850 Specifications:
Default Core Clock Speed: 2.5GHz
L1 Cache: 64KB L1 data, 64KB L1 instruction per core, exclusive
L2 cache: 512KB per core, exclusive
L3 cache: 2MB accessible by all cores
Hyper Transport and Northbridge Frequency: 2GHz (4MT/s)
TDP: 125W


Tests:
For our tests we ran the single threaded version of WinRAR file compression and Cinebench R10 which only uses one core and provides us with the information on the cpu's clock-for-clock performance. We then ran the multi-threaded versions of WinRAR and Cinebench R10 against all four of the cpu cores to gather information on how effficiently it handles distributing the load to the multiple cores. For our games testing we ran the processor in Crysis and Enemy Territory:Quake wars to see what kind of performance numbers we would get from it.
After running the tests at the default Phenom X4 9850 processor speed of 2.50GHz, we then tried overclocking the Phenom as high as we could go before then finding a stable speed-setting to again run our tests for comparison against the default results. The cpu was cooled using the GlacialTech Igloo 5710 Silent Heatsink/Fan and performed sufficiently well during the default processor speed tests, but we introduced a house fan to further push cool air over the Heatsink/Fan and into the case during the overclock sessions of our tests.

Overclocking:
Since the Phenom 9850 has its CPU/FSB multiplier unlocked, we knew right away that the best way we could try 'pushing' the cpu would be via the multiplier in the bios. We had heard that not very many were able to overclock the Phenom 9850 to 3.0GHz or beyond, but we were determined to see what we could do. We then started overclocking it using the multiplier until we hit x15.5 setting which gave us a 3.10GHz clock speed. The system would post fine, boot-up into Vista just fine, and we could run CPU-Z, and even take screenshots of the system at this speed but we were unable to complete any of the Sisoft Sandra XII SP1 benchmarks, Cinebench R10 benchmarks and 3DMark 06 benchmarks without the system locking up causing us to reboot the computer. My instincts told me that we might have been able to get it to 3.10GHz stable and beyond if we could have just applied a little more voltage and cooling to the cpu, but we found that the MSI K9A2 Platinum did not allow us to increase the voltage to the cpu as these settings are grayed-out, and we were stopped at this point. We then backed the clock speed down to 3.0GHz and quite easily, again without any voltage increase and only the multiplier set to x15, found that the Phenom 9850 performed all of the tests without even getting close to overheating with just an air cooled heatsink/fan combination.